Editor's note: Fareed Zakaria is a foreign affairs analyst who hosts "Fareed Zakaria: GPS" on CNN at 1 p.m. ET Sundays.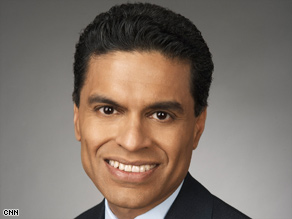 Fareed Zakaria says Bush squandered cash reserves so Americans, mostly the rich, could indulge in buying more.
NEW YORK (CNN) -- In his final public address from the White House, a reflective President George W. Bush on Thursday recalled the ups and downs of his eight-year tenure while predicting a bright future.
"We have faced danger and trial and there is more ahead," Bush said. "But with the courage of our people and confidence in our ideals, this great nation will never tire, never falter and never fail."
Bush, who as president has been known for adamantly sticking to positions even when they've come under widespread criticism, acknowledged setbacks and said he would have done some things "differently, if given the chance."
CNN talked to world affairs expert and author Fareed Zakaria about Bush's legacy as the 43rd president.
CNN: What do you think history's judgment will be of President George W. Bush?
Zakaria: Well, he leaves office the most unpopular president in modern history. There are so many different strands of anger and disappointment in the president -- Iraq, Guantanamo, Katrina, torture, financial woes, his stand on the environment -- that I can't imagine it will fully dissipate over time. I certainly don't think he will ever be seen as a great hero.
'Fareed Zakaria GPS'
This week on Fareed Zakaria GPS, presidential speechwriters on what President-elect Barack Obama should say in his inaugural address.
Sunday , 1 p.m. ET

CNN: In your view what was his biggest mistake?
Zakaria: I think the single most significant bad decision George Bush made came early in his presidency. It was a decision widely applauded at the time and with much bipartisan support. Remember the Bush tax cuts?
Remember their effect on America's finances? In 2000, the Clinton administration had almost balanced the federal budget and the nonpartisan Congressional Budget Office was projecting that over the next 10 years the United States would have budget surpluses that would add up to $5.6 trillion.
By the spring of 2002, two-thirds of that projected surplus had evaporated and the rest disappeared soon thereafter. It was the most profoundly un-conservative act of Bush's presidency. Rather than pay down debt and save in the good times for the inevitable bad times, Bush squandered it all so that all of us -- particularly high income earners -- could indulge in a bit more consumption.
And now, when times have gotten bad and we sorely need that reserve, we're clean out of cash. The federal budget deficit will likely range from $1.2 to $1.8 trillion over the next few years. Imagine what we could have done by either saving that money or spending it wisely on an energy revolution, on upgrading the infrastructure, on modernizing the health-care system.
Don't Miss
CNN: But hasn't he kept us safe from another terrorist attack?
Zakaria: I give Bush, and the American government as a whole, credit for this but it can't be the only yardstick by which to judge a president. After all, Jacques Chirac and Nicolas Sarkozy have kept France safe; Angela Merkel has kept Germany safe, yet we don't regard this as a singular achievement. And the obsession with "keeping us safe" has led to some bad decisions that have compromised American liberty and ethics.
After 9/11, governments everywhere were aggressive in busting terrorists' networks, following their money and tracking their recruits with almost immediate results. As a result, in the six years since 9/11, al Qaeda -- the group led by Osama bin Laden -- has been unable to launch a major attack anywhere. It was a terrorist organization; it has become a communications company, producing the occasional videotape rather than actual terrorism.
Jihad continues -- but they operate on a local level, usually through groups with almost no connection to al Qaeda central. And this improvised strategy has a crippling weakness; it kills locals, thus alienating ordinary Muslims.
The one area where this analysis is not entirely true is in Afghanistan-Pakistan and there the Bush administration bears some significant blame for the resurgence of the jihadis and militants. So, Bush deserves some credit for preventing terror attacks but not as much as the administration keeps implying.
CNN: There has to be a bright spot in his tenure.
Zakaria: Oh, there are several. Nothing is all black and white. His policies in Asia were all intelligent. He kept a strong relationship with China while also strengthening ties with Japan, India, Australia, and Indonesia. That was smart strategy.
He was also wise enough to reverse some of his most egregious errors -- the North Korea negotiations, attempting a peace process in the Middle East, reaching out to Sunni tribes in Iraq. The problem in many of these cases was that it was often too late to get a dramatic result -- but still better late than never.
E-mail to a friend

All About George W. Bush • Tax Policy