By Arthur Brice
CNN






(CNN) -- Tallies from Sunday's nationwide voting showed El Salvador's main leftist party losing its hold on the capital but opening a lead Monday in the Legislative Assembly.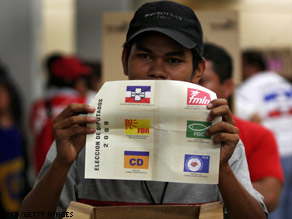 A polling station president in San Salvador shows marked ballots Sunday at the close of voting.
Violeta Menjivar, the incumbent mayoral candidate of the leftist Farabundo Marti National Liberation Front, or FMLN, did not concede defeat in the mayor's race in the capital, San Salvador, until Monday afternoon.
The mayoral candidate of the conservative Arena Party, Norman Quijanom, was expected to win, ending the FMLN's 12-year lock on the office.
With 75 percent of the votes counted, the FMLN, which converted from a guerrilla group into a political party in 1992, had won 42.76 percent of the votes for the legislative assembly, followed by Arena, with 38.4 percent.
Four other parties shared the remaining votes, with none garnering more than 9 percent.
With neither of the big parties expected to win a majority, they would have to agree on an issue in order to pass anything in the legislative chamber.
Some analysts interpreted the FMLN's strength as a good sign for the party's candidate running in the presidential elections scheduled for March 15.
If the party's candidate, Mauricio Funes, wins, that would move another country into the leftist bloc.
Final results were expected to be released Thursday.
The FMLN was also projected to win a majority of the 262 municipal posts contested in the election.
"They now have a real shot at the presidency," said Bernard Aronson, who was President George H.W. Bush's assistant secretary of state for inter-American affairs from 1989 to 1993.
Before Sunday's election, Arena held 34 of the 84 Legislative Assembly seats and the FMLN had 32. Three other parties shared the remaining 18.
The FMLN has helped its chances in the presidential race by choosing a relatively moderate candidate, Mauricio Funes.
Larry Birns, director of the nonprofit Council on Hemispheric Affairs, calls Funes "a very nonrevolutionary ... Teflon-coated candidate preaching moderation."
Recent polls indicated Funes, a former freelancer for CNN en Español, led Arena candidate Rodrigo Avila by up to 14 percent among likely voters, the political consulting firm Eurasia Group Ltd. said last week.
"The popularity of the ruling right-wing Arena Party has been falling because of the regionwide problem with crime," Birns said, citing the kidnappings and killings plaguing much of Latin America.
That has led, he said, to the "remarkable rise in popularity of the FMLN."
The FMLN, which stands for Farabundo Martí National Liberation Front, was formed in late 1980 as an umbrella group for five leftist guerilla organizations fighting a U.S.-backed military dictatorship. After a 12-year civil war, the two sides signed a peace pact in 1992 and the FMLN became a legitimate political party.
Before the elections, analysts speculated about what an FMLN victory would mean for Washington.
"There's another possibility that yet another country will join the pink tide and go leftist," Birns said. "What Washington worries about is momentum building up behind one election after another for leftist candidates" in Latin America: "institutional" governments, such as Brazil's, that "have made peace with the free market" while still championing social programs, and populist, more radical governments such as Venezuela's.
With a presidential FMLN victory, El Salvador would join other Latin American countries that have elected leftist leaders in recent years -- Venezuela, Bolivia, Nicaragua, Argentina, Honduras, Guatemala, Ecuador and Brazil.
"We shouldn't exaggerate like it's some tide sweeping the region, because it's not," Aronson said.
Aronson, who was one of Washington's top officials dealing with Latin America when the civil war ended in 1992, said he would interpret an FMLN victory in March as "the ultimate fruition of the peace accords we backed."
"It's not a bad thing that 'out' parties become the 'in' party," he said. "That's how democracy is supposed to work."
Robert Pastor, a Latin America national security adviser for President Jimmy Carter in the late 1970s, sees a lesson at work.
"This should show Americans that revolutionary and guerrilla groups that have a political agenda can evolve to be democratic," he said.
Aronson said the incoming administration of President-elect Barack Obama may enjoy improved relations with the area.
"The Bush administration was seen in a more ideological lens by the left in Latin America," Aronson said. "Obama comes in with a fresh start."
Heather Berkman, a Latin America analyst with the Eurasia Group, thinks the FMLN would take a pragmatic approach. The nation relies too much on outside investments and remittances from Salvadorans living abroad for the FMLN to adopt too much of a radical approach.
"I don't think they're going to mess with that," she said.
Instead, she said, the FMLN would more likely be concerned with local social policies such as health care and giving municipalities more power.
In addition, Berkman said, since the FMLN did not win enough seats to rule the National Assembly, the party will have to strike deals with other parties.
"The hopes are that some of the smaller parties will exert a moderating influence on leftist initiatives," she said.
An out-of-power Arena Party may be of greater concern, she said: "The big worry I have is how Arena will act as an opposition party."
The FMLN and Arena would have to work together on measures that require two-thirds, or 56 votes, of the Legislative Assembly.
More than 4.2 million Salvadorans were eligible to vote in Sunday's election.
E-mail to a friend

Merlin Delcid in San Salvador, El Salvador, contributed to this report for CNN.
All About El Salvador • Eurasia Group Ltd.