HAVANA, Cuba (CNN) -- Former Cuban President Fidel Castro said Thursday he doubts he'll still have the "privilege" of observing world events in four years, cryptically indicating awareness that he is drawing ever closer to death.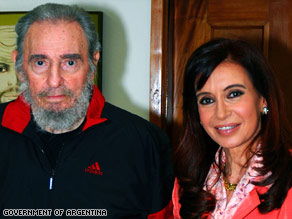 Argentine President Cristina Fernandez de Kirchner visited Fidel Castro this week in Cuba, a report says.
Castro, 82, made the remarks in closing the latest edition of his "Reflections" essays that typically are posted on a government Web site the day before they are published in state newspapers.
The seven-paragraph essay discusses the inauguration and coming term of President Obama, a topic Castro also addressed in an edition of "Reflections" published Wednesday.
"I've had the rare privilege to observe events over a long time," Castro wrote. "I receive information and think about the events. I don't expect to have that privilege in four years when Obama's first term has finished."
After those words, Castro's signature appears, followed by the time -- 6:30 p.m. -- and the date, January 22.
Before Wednesday, Castro had not posted an essay since mid-December, and no photographs of him had appeared since November. Once the 50th anniversary of Cuba's revolution passed on January 1 with no comments from the revolutionary leader, rumors circulated that he had fallen seriously ill or perhaps had died.
Don't Miss
Though photographs occasionally surface, he has not been seen in public since he ceded power temporarily to his younger brother in July 2006 after suffering from an undisclosed illness, often thought to be of his digestive system. He handed power to Raul Castro permanently in February 2008.
But Argentina's official news agency reported that Castro had met with Argentine President Cristina Fernandez de Kirchner on Wednesday and that the Cuban leader appeared "very well."
"We talked about all subjects," Kirchner said. "I found him very well. We talked about the international situation."
In Thursday's essay, Castro said that Obama "has transformed himself under the inspiration of Abraham Lincoln and Martin Luther King Jr. to the point of becoming a living symbol of the American dream."
E-mail to a friend

CNN's Morgan Neill contributed to this report.
All About Fidel Castro • Cuba • Cristina Fernandez de Kirchner