By Arthur Brice
CNN





(CNN) -- Bolivians were on their way Sunday night to overwhelmingly approving a new constitution that would allow leftist President Evo Morales to run for another term later this year, unofficial preliminary results indicate.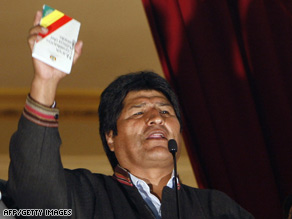 Bolivian President Evo Morales celebrates the first results by holding the new Constitution in La Paz Sunday.
The nearly 4 million Bolivians who cast ballots approved the constitutional referendum 60 percent to 40 percent, the unofficial results show. An official tally was not expected until late Sunday, at the earliest.
There were no reports of major problems or irregularities, international observers said.
"Everything was tranquil today," said Hugo Quintana, who was working with a nine-person delegation of observers from the Carter Center in Atlanta.
One of the observers, Argentinean lawyer Alejandro Nato, said the vote went smoothly, calling it "transparent." He said he just heard ordinary complaints such as that the ink used to mark voters could be washed off and someone could vote twice. He did not find any instances of that, Nato said.
Morales, who campaigned hard for the new constitution, would not have been able to run for a second consecutive term under the current charter, adopted in 1967.
Don't Miss
The new constitution will give greater voice to the indigenous people who make up most of the country and more power to the central government. Elections for the presidency and other federal posts will be held in December.
Morales, speaking at rallies in La Paz and Cochabamba last week, said the new document will propel the nation.
"Once approved, this will be the refoundation of Bolivia and the refoundation of a new state where there will be equality and we will all have the same rights and the same obligations," he said.
Others say the referendum was a way for Morales to keep himself in power, a move that could plunge the country into further violence, division and uncertainty. That strife, critics say, is already in ample evidence as some regions fight to break away and the deaths of up to 30 peasant government supporters a few months ago led to accusations of a right-wing massacre.

"What will be opened is a new chapter of violence," said Carlos Toranzo, an investigator in La Paz with the Friedrich Ebert Foundation, a policy institute associated with and partially funded by the Social Democratic Party of Germany.
The referendum was failing in the resource-rich eastern departments, or states, that want greater independence.
E-mail to a friend

All About Bolivia • Politics • Evo Morales