CARACAS, Venezuela (CNN) -- Armed men forced their way into a Caracas synagogue, defacing its administrative offices with anti-Semitic graffiti and vandalizing an interior room where the Torah is kept, officials said.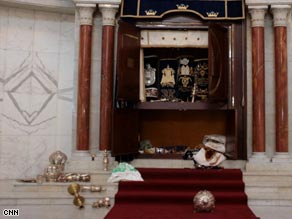 Vandals smashed items in an interior room where the Torah is kept, officials said.
About 15 men forced their way into the Mariperez Synagogue in Venezuela's capital about 10 p.m. Friday, staying until about 3 a.m., police said. They tied up a security guard at the synagogue before vandalizing the rooms.
Graffiti left at the scene included the phrases "Damn the Jews," "Jews out of here" and "Israel assassins." The men also left behind a picture of a devil, authorities said.

The men stole computers and administrative papers or documents, officials said. They did not cover their faces, but took the recordings from security cameras with them.

Watch destruction caused by vandals »
The synagogue had canceled services in recent weeks because of a feared backlash from the Israeli military operations in Gaza, which resulted in the expulsion of the Israeli ambassador from Venezuela.
E-mail to a friend

Adrian Criscaut contributed to this story for CNN.