CARTAGENA, Colombia (CNN) -- A Colombian soldier and three police officers were released from captivity by leftist guerrillas Sunday night, completing the first stage of a three-step release of hostages.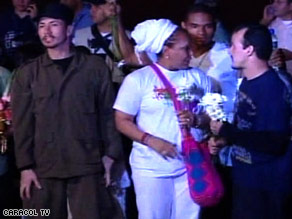 Some of the freed hostages gather for cameras shortly after landing at the Villavicencio Airport Sunday evening.
A Red Cross helicopter carrying police officers Walter Lozano, Alexis Torres and Juan Fernando Galicia and soldier William Dominguez landed at an airport in Villavicencio, southeast of Bogota, shortly before 7 p.m. Sunday.
The men -- some of whom had been held for several years, the Red Cross said -- waved as they stepped off the chopper and were met by well-wishers carrying white flowers.
Many of those who greeted the men were from Colombians for Peace, the group that initiated the hostage release.
Responding to a question, Galicia, speaking in Spanish, said the worst part of their captivity was "the [rebel] army's security measures, since we lived like prisoners every day."
Lozano urged the hostages still in custody, who likely don't have access to television, to "have faith ... that with help from Senator Cordoba you will undoubtedly leave this year."
A delegation led by Colombian Sen. Piedad Cordoba, who brokered a previous hostage release in 2007, left Friday for Brazil to make final arrangements for Sunday's release. The rebels first announced on December 21 that some hostages would be freed.
The Revolutionary Armed Forces of Colombia (FARC), which has been battling the government for decades, handed the men over to the Red Cross earlier Sunday, a spokesman for the relief agency told CNN. After a brief period of rest, they are expected to be flown to Bogota for a meeting with Colombian President Alvaro Uribe at his official residence.

Watch a report on the release of the hostages »
Colombia says FARC is still holding about 700 captives. But many analysts see this week's planned release of a total of six hostages as the first step toward an eventual peace accord with the government.
On Tuesday, Cordoba's delegation is scheduled to travel to another site designated by FARC to pick up the governor of the Meta state, Alan Jara, who was abducted in 2001.
The delegation then will receive instructions from FARC on how and where to proceed in the third and final leg Wednesday to collect Sigifredo Lopez, a former official in the city of Valle del Cauca, who was kidnapped in 2003.
The Colombian government has recently stepped up pressure on the rebels, offering rewards to the guerrillas if they surrender and free their hostages. Earlier this month, two guerrillas fled their camp deep in the jungles of southern Colombia, bringing along two kidnap victims -- a 14-year-old boy and a male adult who were kidnapped in December.
And a July rescue operation freed former presidential candidate Ingrid Betancourt, who had been held captive since 2002, along with three American military contractors and 11 Colombian police and military members.

Although the government says FARC's military force has been severely compromised in recent months, authorities still accuse it of trafficking huge quantities of cocaine to finance its decades-old insurgency.
Security analysts say FARC has about 9,000 to 12,000 armed guerrillas and several thousand supporters, mostly in rural areas.
E-mail to a friend

Toby Muse contributed to this report for CNN.