CARACAS, Venezuela (CNN) -- Venezuelan President Hugo Chavez said he supported U.S. President Barack Obama's efforts to find alternative energy sources but doesn't believe the United States can do it.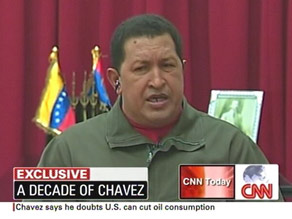 Venezualan President Hugo Chavez said improved relations depend on the United States.
"I don't know how he will achieve what he said he would," Chavez said in an exclusive 30-minute interview with CNN en Espanol's Patricia Janiot Monday night. "It's very difficult for the United States to diminish its use of oil."
The United States, a major Venezuelan oil consumer, needed petroleum "like air, like oxygen to live, to survive," Chavez said.
"We employ thousands of workers in the United States," Chavez said. "We give aid to hundreds of thousands of poor families in the United States with our heating oil program."
Chavez added that also isn't worried about the falling price of crude oil because there is such worldwide hunger for petroleum.
"The world will need to sustain its industrial rhythm," he said.
Chavez certainly hopes that's the case. Oil revenues account for about 90 percent of Venezuela's export earnings, about half of federal budget revenues and some 30 percent of gross domestic product, according to the CIA Factbook.
Chavez, who once called former President George W. Bush "the devil," welcomed talks with Obama, saying, "I wish we could restore relations to the same level we had with President Clinton," referring to the 1993-2001 years.
But improved relations depended on the United States, Chavez said.
"We won't accept disrespect from anyone," he said, adding that respect from the United States must include all of Latin America.
On the domestic front, Chavez said he expected to win the February 15 referendum to amend the constitution so he can run for a third six-year term in 2012. But he's willing to accept any outcome, Chavez said.
"If we lose, we lose," he said, but declined to rule out calling for another referendum if he does not succeed this time.
Venezuelans narrowly rejected a similar measure in a December 2007 referendum.
Chavez has been campaigning hard in favor of the referendum, which he called for in November, a week after candidates he backed won a majority of seats in local elections seen as a test of his influence.
Chavez was elected president in 1998, six years after a failed coup attempt to depose then-President Carlos Andres Perez. Chavez was sworn in on February 2, 1999.
He was re-elected in a special election in July 2000 after a new constitution was adopted and again in 2006.
The current constitution limits him to two consecutive six-year terms.
Although Venezuela has been hit particularly hard by the recent drop in oil prices, Chavez said social programs he has instituted will continue.
"I have told those who oppose me: Put the price of petroleum at zero and I won't do away with social programs."
Chavez noted that when he took over, there were 20 doctors for every 100,000 Venezuelans. Now, he said, there are 65 physicians for every 100,000 people.
Likewise, free health coverage was available to 95 percent of Venezuelans, he said. Ten years ago, it was available to only 25 percent of the population, he said.
Chavez made his comments on a particularly busy day in which Latin American leaders assembled in Caracas to mark the 10th anniversary of his rise to power, a period described by state-run television as "a decade of successes."
Earlier Monday, Chavez and representatives of the leftist group Bolivarian Alternative for the Peoples of Our Americas, or ALBA, walked through the National Pantheon, which holds the sarcophagus of Simon Bolivar. Chavez credits him as "the father of the revolution."
In 1819, Bolivar founded Gran Colombia, a federation of what is now Venezuela, Colombia, Panama and Ecuador.
In attendance were presidents Daniel Ortega of Nicaragua, Jose Manuel Zelaya of Honduras and Evo Morales of Bolivia; Roosevelt Skerrit, prime minister of Dominica; and Cuba's first vice president, Jose Ramon Machado Ventura.
Absent was Chavez's friend and mentor, former Cuban President Fidel Castro, who has been sick. But that didn't stop Chavez from addressing him.
"Fidel, from here I salute you," he said. "Revolutionary father, from here we, your sons and daughters, salute you!"
E-mail to a friend

All About Hugo Chavez • Venezuela