By Ashley Fantz
CNN






(CNN) -- Omar Khadr begged them to do it.
"Kill me," he said. "Please, kill me."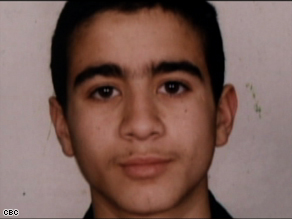 Omar Khadr, is shown here in his early teens, when he was first accused of killing a U.S. soldier in Afghanistan.
The men looming over the bullet-riddled 15-year-old were stunned. How was he still alive? The Special Forces unit had fired several rounds into him, shooting where a grenade had been thrown that mortally wounded their medic, Sgt. 1st Class Christopher Speer.
The air in the Afghan compound, which had been blown to bits, was a thick fog of dust. Hearts pumped from the adrenaline of a firefight. Speer was immediately choppered away. The 28-year-old father of two would die 10 days later.
The wounded teen, whose parents once lived with Osama bin Laden, was patched up and flown away too, headed for questioning at Bagram Air Base in Afghanistan. He would become one of Guantanamo Bay's most controversial detainees.
Khadr, now 22, is the youngest inmate and, as a Canadian citizen, the only Westerner still held at Gitmo. He is accused of receiving one-on-one training from al Qaeda and was allegedly caught on a surveillance video making and planting roadside bombs where U.S. troops traveled -- video the Pentagon will not release.
Due to go to trial last month, Khadr is charged with war crimes including murder, spying, conspiracy and providing support to terrorism. But President Obama's order to close the detention facility at Gitmo has postponed the trial, and left the case in limbo.
Like the other remaining 245 Gitmo detainees, Khadr could be tried in the United States and face a life sentence. Or he might be sent back to Canada, where he could avoid trial and be set free.
Khadr has already served more time than he ever would under Canadian law, his lawyers say. They paint him as a victim, a kid trying to please his father, an al Qaeda financier who raised Omar and his siblings in bin Laden's training camps.
"Omar is not a threat," said his attorney Nathan Whitling, who recently visited his client at the prison in Cuba. "He's a good kid, everyone agrees."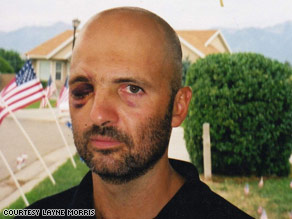 Former Special Forces soldier Layne Morris back in the U.S. shortly after being injured in the Khost firefight.
Retired Special Forces Sgt. Layne Morris laughs at that.
"I just want to ask people, 'Do you have a short attention span?' " he said. "Would you have a short memory if you knew the background of these people?"
On July 27, 2002, Morris was among the Special Forces unit in southeast Afghanistan that received intelligence that an al Qaeda explosives maker was at a mud-brick compound in Khost, a village near the Pakistani border, his affidavit says.
"When we got there, we could see six guys through the gates -- all well-fed, well-dressed, not looking like your average Afghans, so it was clear we had received good information," Morris said.
After the soldiers formed a perimeter around the compound, Afghan fighters working with the Americans shouted in Pashto over a PA system for the men inside to surrender. Minutes ticked by. When it was clear that no one was budging, two Afghans working with the soldiers were sent to the gate.
"They shot them point-blank," Morris said. "We returned fire and lobbed hand grenades, stepped back and then reengaged, called for air support. We bombed that compound for an hour. There wasn't much left of it. We thought everyone inside was dead."
Blinded in his right eye by shrapnel during the firefight, Morris ducked behind a U.S. truck, and was eventually taken away.
What happened next is disputed.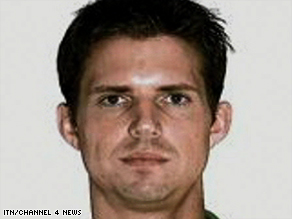 Special Forces Sgt. 1st Class Christopher Speer, a father of two, was killed in Afghanistan in 2002.
As soldiers walked into the compound, Khadr emerged from the ruins, threw the grenade that killed Speer and was then shot, prosecutor Marine Maj. Jeff Groharing said.
But the defense argues that there was another man alive in the compound who could have thrown the grenade, according to a 2004 Defense Department investigative interview with another U.S. soldier who was present. The defense accidentally released the document to the media in 2007. Read the soldier's account
The soldier said he "heard moaning" and saw a man lying on his right side, then shot the man in the head and he stopped moving, according to the testimony.
"If we were allowed to go into a real courtroom, not what we have at Guantanamo, and present that evidence, the court would clearly be left with reasonable doubt," Khadr's attorney said.
"We've never said there wasn't anyone else alive in there," countered Groharing. "But that man was too banged up, his injuries were too severe for him to have thrown the grenade. We have said that Omar was the only one in a position to throw it."
Groharing also said that when the unit swept the bombed compound, they found a videotape showing Khadr and other men passing around wire, bomb caps and pliers, Groharing told CNN. And, he said, the detainee confessed several times during questioning.
The defense says those confessions were the product of torture, an allegation the prosecution denies.
Khadr claims in a 2008 affidavit that his interrogators spat on him, pulled his hair and threatened him with rape during the early weeks at Bagram. He describes a "soldier" at Guantanamo forcing him to wear a mask that made it hard to breathe and made him pass out. He said he endured this treatment "3 or 4 times."
Khadr also said he was forced to scrub the floor on his hands and knees while still wounded and describes being "terrified" at Bagram when a bag was placed over his head and barking dogs were brought into his interrogation room. Riddled with shrapnel cuts, Khadr said his interrogators nicknamed him "Buck-shot."
"I did not want to expose myself to any more harm, so I always just told interrogators what I thought they wanted to hear," the affidavit reads. Read Khadr's allegations of torture
Defense attorney Whitling said that they have no physical evidence of such treatment to back Khadr's account of torture.
Only one piece of visual evidence showing Khadr's treatment has been made public -- an interrogation recorded in February 2003, about seven months after his capture.
Khadr's attorneys obtained the footage, recorded with a hidden camera at Guantanamo, in a lawsuit against the Canadian government. A judge allowed the government to edit the tape before releasing it, defense attorneys said.
CNN viewed the footage.
"Nobody cares about me," Khadr says while he cries and lifts his shirt, attempting to show his injuries.
"People care about you," says a male speaker, who the Pentagon and defense attorneys identify as a Canadian. The man continues to talk to Khadr in the tone of a disappointed parent, telling the teen to "relax."
Khadr breaks down and sobs uncontrollably.

Watch the interrogation »
"When I heard about this interrogation video, I figured it was someone pulling his fingernails out and waterboarding," Layne Morris said. "I was genuinely shocked and surprised to see how sorry people felt for him. I thought, 'Now that they have been broken down emotionally and are crying like children, now we feel sorry for them?' "
Yes, say Khadr's advocates, including the Canadian Bar Association. Its president wrote a letter last month to Canadian Prime Minister Stephen Harper calling for the detainee's repatriation, saying the U.S. government has flouted his due process rights.
Harper has not taken a position on the case, and has deferred to the Obama administration.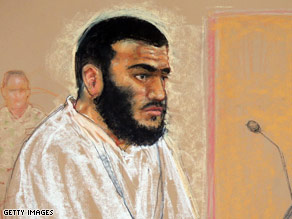 A courtroom sketch done in January of Omar Khadr during a hearing at Guantanamo Bay.
When he speaks of home, Khadr talks about Toronto, according Canadian Foreign Affairs Department liaisons who've visited with him. The defense sued the department to obtain the reports detailing the visits.
Their reports paint a complex picture of a mostly polite but frustrated young man who is a voracious reader despite not having schooling beyond the eighth grade. American attorneys at Gitmo have described Khadr as a "good kid" to the Foreign Affairs officials. And his good behavior has allowed him privileges he loves, like reading Harry Potter books, the reports say.
But when offered the chance to call his family who live in Canada, he "didn't seem overly keen" about it, a Canadian report in March 2008 notes.
Canadian media have dubbed the Khadrs "The First Family of Terrorism."
"Much of the hatred of the Khadr story has been directed at his family," said Toronto Star reporter Michelle Shephard, who has interviewed Khadr's relatives and written the book "Guantanamo's Child."
"The reality is, though, that when he comes back, his family will eventually be all he has. And considering their reputation in Canada, that is scary to a lot of people."
Born in Canada, Khadr was a toddler when his Palestinian mother and Egyptian father moved the family to Peshawar,Pakistan, so he and his siblings could attend bin Laden's training camps, according to court documents.
The family lived with the head of al Qaeda who was "the big person in the compound," Khadr's older brother Abdurrahman Khadr told CNN in a 2006 interview.
At the camps, the Khadr children learned "Why we're here, why we are fighting America, why we are taking this way, why being a suicide bomber is an honor, why it's right religiously," Abdurrahman Khadr said in that interview.
The Khadr patriarch, Ahmed Khadr, worked for charities in the Middle East and Canada that were fronts for al Qaeda, of which he was a senior member, the U.S. charges. In 1994, the father was arrested and served prison time for helping finance the bombing of the Egyptian Embassy in Pakistan, according to Omar Khadr's indictment.
Khadr and his siblings briefly returned to Canada during that time, and then came back to Afghanistan to stay. In the weeks before the firefight in 2002, Omar Khadr's father "gave him away to a known Islamic militant" and the teen received one-on-one firearms and explosives training with al Qaeda members, according to court filings in his case.
Abdurrahman Khadr told "60 Minutes" last year that his brother went to the compound as a translator, not a fighter.
"He was sent there by my father and as an obedient kid and he said OK," he told the show. Their father died in a gunbattle with Pakistani police in 2003, according to Pakistani intelligence sources, a story the U.S. government has accepted as truth, a Pentagon spokesman told CNN.
As he got older, Abdurrahman Khadr, who is reportedly living in Canada, told CNN he grew to reject bin Laden's philosophy and went to work for the CIA for a brief time -- a claim the CIA will not comment on.
The Khadr family's reputation is inspired mostly by comments Omar Khadr's mother has made since her son was captured. Maha Elsamnah, who lives in Toronto, told the Canadian Broadcasting Corp. in a 2004 documentary that she would be proud to have her sons die as a "martyr." And she has admitted to thinking, 'Let them have it' when the planes hit the World Trade Center in 2001, according to the Toronto Star.
Reached at her Toronto home last week, Elsamnah said she no longer associates with al Qaeda, and that her time in Afghanistan was spent working with orphans and poor mothers.
"We had a cause then," Elsamnah said, referring to the period when her husband raised their children alongside bin Laden in the 1980s and 1990s. "We are different now. We are human. I don't like violence. I hate violence."
"I hope Omar is a good boy now, a good man," she said. "When he comes back home, we are dreaming of having a farm, [where we can] raise our own animals, far away from pressure of the media and the pressure of the community who are so confused about our life."
She said she "just wants to be a mother." Omar's brother Abdullah Khadr is being held in Canada on a U.S. extradition warrant, accused of supplying weapons to al Qaeda. Another brother, Karim Khadr, was paralyzed from the waist down in the same gun battle that killed his father in 2003, Omar Khadr's defense attorney confirmed. Karim Khadr is living in Canada, the attorney said.
The eldest sibling, Zaynab Khadr, has been investigated for involvement in terrorism by the Royal Canadian Mounted Police, but she has never been charged, her brother's attorneys confirmed. The RCMP told CNN its policy is not to comment on any ongoing or concluded investigations.
She recently ended an 18-day hunger strike in support of her brother and told CNN in an e-mail that Omar Khadr only wants "to return to Canada, where he was born and spent much of his childhood, and become an 'ordinary Canadian' once again."

If Khadr is released, the government may seek a peace bond, Canada's version of a restraining order. That could keep relatives away, at least for a time, while counselors, moderate imams and others help him adjust.
"We want to make sure Omar feels like he has the right people guiding him," Whitling said. "But you can't separate a boy from his family forever."
E-mail to a friend

CNN's Caitlin Stark and Pam Benson contributed to this report.
All About Guantanamo Bay • September 11 Attacks • Afghanistan