CARACAS, Venezuela (CNN) -- Venezuela on Friday expelled a Spanish member of the European Parliament after he called President Hugo Chavez a dictator and criticized Chavez's handling of a referendum on term limits that the lawmaker had been set to observe.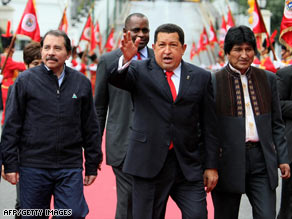 Venezuela's Hugo Chavez, center, is flanked by Bolivia's Evo Morales, right, and Nicaragua's Daniel Ortega.
In a statement, Venezuela's Foreign Ministry said it had invited Luis Herrero, who represents the right-wing Partido Popular (Popular Party) in the European Parliament, to leave the country to preserve a "peaceful climate" before the Sunday referendum.
An opposition party, staunchly against Chavez, had asked Herrero to observe the referendum on a change to the constitution that would allow unlimited terms for elected officials.
Venezuela's Globovision television reported that Herrero was escorted to the Maiquetia airport on Friday by what appeared to be members of the national guard.
"Following his comments, in a sequestering operation, they took him by force from the hotel without even allowing him to take his personal belongings and his passport," opposition member Luis Ignacio Planas told Globovision.
About 10 p.m., after a discussion with other European parliamentarians, officials from Venezuela's national intelligence agency went to Herrero's room and asked him to leave, police officials told Globovision.
The Spanish Foreign Ministry will express its dissatisfaction with Venezuela's treatment of Herrero in a letter to the Venezuelan foreign minister, said Joaquin Duran, a ministry spokesman.
Don't Miss
Duran did not say the Foreign Ministry was upset with Herrero's deportation. He said it was dissatisfied with how the expulsion was carried out.
During a news conference that aired Thursday on Globovision, Herrero harshly criticized Chavez's handling of the referendum, implying the Venezuelan president was trying to manipulate the polling schedule to his benefit. Herrero called for Venezuelans to "vote freely."
"Don't ever let fear obstruct your vote, as a dictator has premeditated," he said.
Herrero's father, Fernando Herrero Tejedor, held posts as regional governor and as the secretary-general of the National Movement, the political, social and labor organization of Spanish right-wing dictator Gen. Francisco Franco, who died in 1975.
In September, Jose Miguel Vivanco, Human Rights Watch executive director for the Americas, was also expelled for criticizing Chavez's policies.
E-mail to a friend

CNN's Per Nyberg, Morgan Neill and Karl Penhaul contributed to this report.
All About Hugo Chavez • Venezuela