CARACAS, Venezuela (CNN) -- Venezuelan President Hugo Chavez declared victory Sunday night in a constitutional referendum that will allow him to run for a third six-year term in 2012.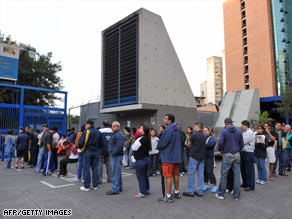 Venezuelans wait to vote on the referendum Sunday at a poll center in Caracas.
With 94 percent of the votes counted, about 54.4 percent of the voters supported the referendum and 45.6 percent were opposed, the National Election Commission said in a news conference Sunday night.
"Victory, victory, popular victory," Chavez told a jubilant crowd of thousands gathered in front of the Miraflores presidential palace. "This is a clear victory for the people. A clear victory for the revolution."
The National Assembly approved the referendum last month. Venezuelans narrowly rejected a similar measure in December 2007.
If the results hold, Chavez could run for a third consecutive six-year term in 2012.
A student leader said earlier Sunday that his colleagues, many of whom had been opposed to passage of the referendum, would honor the results, El Universal newspaper said.

Watch report on Venezuleans approving measure »
"We, the youth, believe in democracy and believe in the constitution and in any case will recognize the results no matter what they are," said David Smolansky, of the Catholic University Andres Bello.
Voting was said to have proceeded smoothly, and no major mishaps were reported.
Polls opened at 6 a.m. (5:30 a.m. ET) and closed at 6 p.m. (5:30 p.m.), the election commission said.
Chavez called for the referendum in November, a week after candidates he supported won a majority of the seats in local elections. The elections had been seen as a test of his influence.

Watch as Chavez votes »
The leader initially proposed that he be able to be re-elected indefinitely, but after he had trouble convincing politicians and citizens, Chavez proposed that the referendum apply to any elected official.
Chavez, who spent his career in the military before entering politics, was elected president in 1998 as a leftist reformer and instituted several reforms after taking office.
He withstood a coup attempt in April 2002, which he accused the United States of fomenting, and a recall referendum in August 2004. In a parliamentary election in late 2005, Chavez supporters gained control of the National Assembly, and a year later he was easily re-elected to another six-year term.
On Friday, Venezuela expelled a Spanish member of European Parliament after he called Chavez a "dictator" and criticized the Venezuelan president's handling of the referendum on term limits. An opposition party, staunchly against Chavez, had asked Luis Herrero to observe the voting.

In a statement, Venezuela's Foreign Ministry said it had "invited" Herrero, who represents the right-wing Partido Popular (Popular Party) in the European Parliament, to leave the country to preserve a "peaceful climate" before the Sunday referendum.

Watch a report from CNN's Morgan Neill on the voting »
Hundreds of students packed the streets of the Venezuelan capital, Caracas, earlier this month to march in opposition to the proposed amendment.
E-mail to a friend

CNN's Morgan Neill contributed to this report.
All About Hugo Chavez • Venezuela