(CNN) -- President Obama and Joint Chiefs of Staff chairman Adm. Michael Mullen on Saturday discussed how the U.S. military can assist Mexico in addressing growing violence from drug cartels, according to a military official.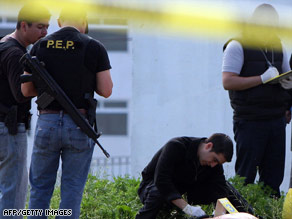 Mexican authorities discovered three headless bodies in Tijuana on Tuesday.
The conversation, which Obama initiated within hours of Mullen's return to the United States from a visit to Mexico City, underscores the growing concern with which the United States views the situation.
"The president was eager to get the chairman's observations on what he found out," the official told CNN.
The president expressed interest in military capabilities that the U.S. has that could help Mexican forces, including intelligence, surveillance and reconnaissance technology, the official said.
Mexico's military and police have been embroiled in increasingly violent clashes with cartels, which are battling among themselves for control over an ever-growing market in the United States.
This week, a U.S. citizen was among the three decapitated bodies found in Tijuana, Mexican authorities said Saturday. Growing drug violence has made beheadings in Tijuana, Juarez and other Mexican towns more commonplace over the past year.
Don't Miss
The Tijuana attorney general's office identified the man as Jorge Natividad Norman Harrison, 45, who ran a pizzeria in El Mirador, in Tijuana. The bodies were found Tuesday.
In a written statement, Mexican officials said they found firearms and more than 100 Valium pills in a search of Harrison's business.
The statement also noted that he had a criminal history in the United States for drugs and conspiracy.
E-mail to a friend

CNN Pentagon Correspondent Barbara Starr contributed to this report.
All About Tijuana • Illegal Drugs • Barack Obama