By Rey Rodriguez
CNN





MEXICO CITY, Mexico (CNN) -- In the face of spiraling drug violence that has shaken the country, the Mexican army has taken a lead role in attempting to thwart the narcotraffickers. But its ability to do so has been hurt by a large number of desertions, government officials say.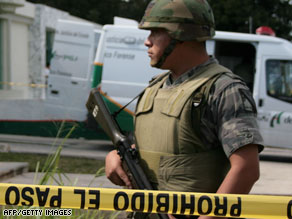 A soldier stands guard outside the forensics service headquarters in Cancun, Mexico, in February.
At present, some 40,000 forces are deployed throughout the nation against the traffickers, according to the secretary of defense.
But during the past six years, some 150,000 soldiers have deserted, with their departures disproportionately affecting forces stationed in Guerrero, Sinaloa, Michoacan and Chihuahua -- all considered fronts in the government's fight against drug cartels.
According to one retired general, the reason is economic.
"A soldier who makes 3,000 or 3,500 pesos (US$196-$229) -- how is he going to be there for one month when we know that for up to 40 days he is out of his familiar environment and the confines of his barracks?" asked Rep. Roberto Badillo, a member of Mexico's opposition PRI party.
A deserter who left after serving five years in the army agreed.
Don't Miss
"A lot of people go where the pay is greatest," he said, speaking to CNN on condition that he not be identified. "They see a better opportunity in going with the narcotrafficker, they see a better opportunity in leaving, in the best of cases, to serve as bodyguards. It's a way of making a living from what they learned in the military."
The Zetas, now an armed branch of the Gulf Cartel, were initially integrated with special forces soldiers.

"The federal police are infiltrated by the narco, and then, even the military -- as much the sailors as the soldiers," said Rep. Jose Manuel del Rio Virgen, a member of the Convergence Party. "The army itself confronts itself. It's a totally unequal fight."

Watch how a Mexican border town is described as a "war zone" »
There have no doubt been a growing number of military deaths linked to the drug trade in recent years. Presumed narcotraffickers decapitated nine soldiers in the state of Guerrero last December, two months after 10 other troops ran into a similar fate in the state of Nuevo Leon.
E-mail to a friend