By Gary Bender
CNN





(CNN) -- A man went over Niagara Falls and survived Wednesday afternoon, one of the few people to ever survive the plunge unprotected, authorities said.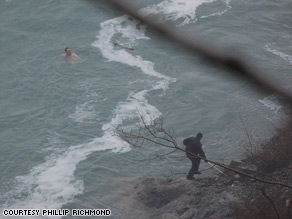 It is unclear whether the man chose not to aid in his rescue or was physically unable to do so, officials say.
The man was seen entering the icy water just above Horseshoe Falls, on the Canadian side, and apparently jumped in about 2:15 p.m, Niagara Falls, Ontario, Fire Chief Lee Smith said.
Smith said the unidentified man was in the near-freezing water for "40-plus" minutes before he was rescued by Niagara Parks Police and Niagara Falls firefighter Todd Brunning.
Brunning, who was tethered to shore, swam about 60 meters (nearly 200 feet) into the river and was able to get hold of the man and bring him to shore.
Niagara Parks Police initially used a helicopter from a private company, Niagara Falls Helicopters, to attempt a rescue of the man. When that failed, they used the wind from the chopper's rotors to push the man closer to shore, Smith said.

Watch chopper hover over man in icy water »
He said the man was "being rotated in a cyclic fashion" by the river's very strong currents.
Don't Miss
The man did not aid in his rescue, officials said, though it was not immediately clear whether he was physically unable to or he did not want to do so.
Niagara Falls Fire Capt. Dave Belme said the man was not wearing any clothes when he was rescued, but he added that it's not unexpected for a person to lose things while being washed down the falls.

The man's "chances of survival without the quick response would be lessened," Smith said.
All of the agencies train for situations like this, he said, and they are put to the test about a dozen times a year. Still, he called Wednesday's rescue "amazing."
E-mail to a friend

All About Niagara Falls