Fareed Zakaria is a foreign affairs analyst who is host of "Fareed Zakaria: GPS" on CNN at 1 and 5 p.m. ET Sundays.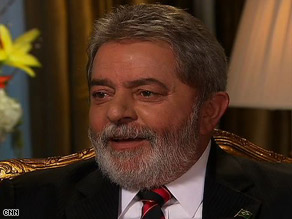 Brazilian President Luiz Inacio Lula da Silva says his country should be part of the U.N. Security Council.
NEW YORK (CNN) -- Brazilian President Luiz Inacio Lula da Silva says emerging industrialized nations like Brazil, China and India should have a greater say in world affairs.
In an interview to air Sunday on CNN's "Fareed Zakaria GPS," Lula da Silva also said the United Nations Security Council should include emerging nations as permanent members.
"The geography of 2009 is different from the geography of 1948 when the U.N. was created," Lula da Silva said. "And because of this we want more continents to participate in the U.N. Security Council. ... Brazil should have a seat ... the African continent should have one or two members in the U.N. Security Council. There's opposition from Italy that doesn't want Germany to come in. There is China that doesn't want the Japanese to participate.
"I think this is foolish."
Lula da Silva also expressed his admiration for Barack Obama, saying he told the new U.S. president at a recent White House meeting that he prays more for the American leader than for himself "because although I face many problems, he has much more delicate problems than I."
Lula da Silva said there's a reason Obama was elected.
"The high hopes, the high expectations around him are tremendous," Lula da Silva said. "And I believe that God didn't put him there for nothing. It's because something important will happen in this country."
'Fareed Zakaria GPS'
Fareed Zakaria takes a comprehensive look at foreign affairs and the policies shaping our world. His emphasis is on new ideas and innovative approaches to solving the world's toughest problems.
Sunday, 1 & 5 p.m. ET

Lula da Silva said he did not speak with Obama about the "absurd" trade embargo the United States imposed on Cuba in 1962.
"The only thing that I believe as a citizen, as the president of my country is that there is no reason -- not from a sociological viewpoint, a military viewpoint, a political viewpoint, an electoral viewpoint, and much less from an economic viewpoint -- to maintain such a blockade," he said.
But Lula da Silva said Obama "should make a gesture" toward Cuba as a first step toward normalizing relations with the communist island.
Speaking about another U.S. trouble spot in Latin America, Lula da Silva said he told Venezuelan President Hugo Chavez recently "that it was necessary that he become closer to President Obama, because now there is an opportunity to establish new ties of friendship with the U.S."
Chavez famously implied at a U.N. speech in September 2006 that then-President George W. Bush was the devil.
Lula da Silva, who calls himself a socialist and once worked as a factory lathe operator, talked about his humble upbringing.
"When I'm sitting in the G-20 meetings with all of those presidents or heads of state, I know I am the only one that definitely went through a lot of misery and hunger," he said. "I lived in houses that were flooded by water, inside my house, 1½ meters high. Sometimes I had to fight over space with rats and cockroaches, and waste would come in when it flooded.
"I know what unemployment means, because I was unemployed for 1½ years. And I know the drama that the worker -- an unemployed worker -- faces."
Lula da Silva praised the values of democracy, a system that allowed a former factory worker and union leader to become president of a large nation. He took office in January 2003 and was re-elected in October 2006 for a term that will end January 1, 2011.
Once in a while, he said, while sitting at a meeting with other world leaders, "I feel like an outsider. I ask myself, what am I doing here?

"But it was democracy that led me to this position. It was the people that led me to this position. So I feel I am on equal terms with all of them. I don't feel that I'm less than anyone. And 10 years ago as I would watch these people on television, I could never have imagined that I would get close to them, never.
"And suddenly here I am. I am now in the same group as them, talking with them on equal terms, sometimes learning, sometimes teaching. And this is something that is pleasurable in politics. And it is also the great thing about democracy."
E-mail to a friend

All About Brazil • Luiz Inacio Lula da Silva