(CNN) -- Former Argentine President Raul Alfonsin, who led Argentina from military to civilian rule, has died, his doctor said Tuesday. He was 82.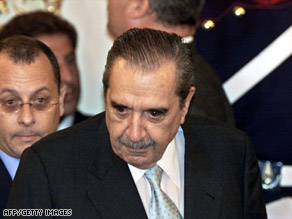 Alfonsin, right, arrives at the house of government in Buenos Aires in January 2002.
Dr. Alberto Sadler announced Alfonsin's death on government television. He died of lung cancer, which was diagnosed in 2007.
"He fought for all Argentines," said Mario Losada, an ex-senator with Alfonsin's party, the Radical Party. "He was an authentic and absolute democrat. He paid a cost in preserving the institution, a very high cost ... Alfonsin, unfortunately, died but he saw his work completed."
The lawyer was elected to the presidency in 1983, when he inherited an economy crippled by runaway inflation and a country whose international image had been hurt by its defeat by Britain in the 1982 Falklands War.
He moved to bring to justice those responsible for the disappearance of thousands of people during his predecessor's reign in what was called "the dirty war," but his moves were criticized by some as insufficient.
His failure to stabilize the economy and control inflation was blamed for his loss to Carlos Menem in 1989.
National days of mourning were declared through Thursday, during which the country's flag will be flown at half staff over government buildings.
E-mail to a friend

All About Argentina