(CNN) -- Canada-based oil sands company Syncrude acknowledged that 1,600 birds -- 1,100 more than initially estimated -- drowned after landing on its settling basin in Aurora a year ago.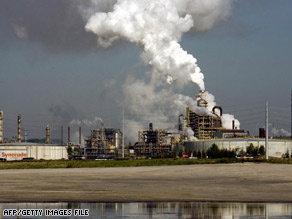 The Syncrude extraction facility in the northern Alberta oil sand fields in Fort McMurray, Canada, as seen in 2007
The ducks died after becoming coated with the residual oil floating on the water surface.
The company has been charged with violating the Migratory Birds Convention Act and the Alberta Environmental Protection and Enhancement Act.
"The drowning of the waterfowl last April shouldn't have happened and is unacceptable," said Syncrude's President and CEO Tom Katinas, according to a statement on the company's Web site. "There is tremendous resolve in our organization to learn from this experience and help ensure it does not happen again."
The company announced Tuesday a series of measures to boost its waterfowl protection program, including sound cannons, monitoring staff, scarecrows and effigies, and a radar-based system to research migration patterns.
An internal investigation found "significant migration" prior to the April 28, 2008, incident, despite the still-frozen local natural water bodies, and that an "extremely severe late spring snowstorm" hampered deterrents, according to Syncrude.
The incident was the "first time in Syncrude's 30-year operating history that an event of such magnitude had ever occurred," said the company, which initially estimated that 400 to 500 birds were affected.
E-mail to a friend