(CNN) -- A roadside bomb in southern Afghanistan killed a female Canadian soldier and wounded four other troops, the Canadian military said Tuesday.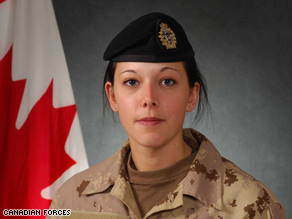 Trooper Karine Blais, 21, is the second Canadian female soldier to die in Afghanistan.
Trooper Karine Blais was killed Monday when the troops' armored vehicle struck the bomb. The attack occurred north of Kandahar in the Shah Wali Kowt District of Kandahar province.
Blais' death was the 117th Canadian troop fatality in the Afghan war, and she is the second Canadian female soldier killed in Afghanistan.
The first, Capt. Nichola Goddard, was killed in a May 2006 firefight with insurgents in Kandahar province, where Canadian troops have been based during the conflict.
Brig. Gen. Jonathan Vance, commander of Canadian troops in Afghanistan, called the 21-year-old Blais "an energetic soldier who gave 100 percent to every challenge she faced using a unique sense of humor based on her honesty and frankness."
Vance said Blais "demonstrated the qualities of a future leader" and was "respected by all members of her squadron."
Don't Miss
"Our thoughts are with the friends and family of our fallen comrade during this difficult time," the Canadian Forces said in a news release. "All members of Task Force Kandahar are thinking of the family and friends of our fallen comrades during this sad time. We will not forget their sacrifice as we continue to bring security and hope to the people of Kandahar province."
Blais, from the 12th Canadian Armored Regiment at Valcartier, Quebec, near Quebec City, was serving with the 2nd Battalion, Royal 22th Regiment Battle Group.
A chopper evacuated the four other troops to a medical facility at Kandahar airfield.
Before Monday's attack, the last Canadian deaths in Afghanistan occurred March 20 when four soldiers were killed in two roadside bombings.
E-mail to a friend

All About Canada • Afghanistan • Kandahar