BOGOTA, Colombia (CNN) -- A carrier pigeon in Colombia gave new meaning to the term "jailbird" when officials discovered that it was trying to smuggle cell phone parts into a high-security prison, a news report said.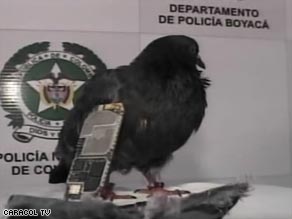 The carrier pigeon has Colombian authorities concerned there may be a new way to smuggle goods into prisons.
The bird was carrying the contraband on its back in a little suitcase, the Caracol news outlet said Monday.
Heavy rains prevented the plumed smuggler from entering the prison in north central Colombia, said the police chief in Boyaca state, Juan Carlos Polania.
Authorities are worried, Polania said, because this is a newly discovered way of smuggling goods into the prison, and officials have no way of combating it. They also are wondering whether any of the many pigeons that live in or near the prison are pulling double duty.
As for the miscreant bird, he was taken to an animal shelter in the city of Soraca.
E-mail to a friend

All About Colombia