MEXICO CITY, Mexico (CNN) -- Mexican authorities are searching for more than 50 inmates and a group of 20 armed men who freed them from a prison in central Mexico early Saturday.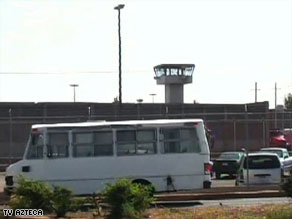 Police have detained several prison personnel in the Cieneguillas raid, where not a single shot was fired.
The group raided Cieneguillas prison in the Mexican state of Zacatecas in under five minutes, freeing the 53 prisoners using 10 vehicles without a shot fired, according to Gov. Amalia Garcia Medina.
The inmates are likely connected to the Gulf Cartel, a powerful drug cartel operating in northern Mexico, Medina said in a statement Saturday.
Authorities have detained the director of Cieneguillas prison, two commanders and 40 security guards, Medina said.
Military and police officials are trying to locate the fugitives, according to Notimex, Mexico's official state news agency.
E-mail to a friend

All About Mexico • Gulf Cartel • Illegal Drugs • Drug Trafficking