By Hilary Whiteman
CNN





LONDON, England (CNN) -- A year ago, they were complete unknowns, living a peaceful existence far away from the glare of the international media. Not any more.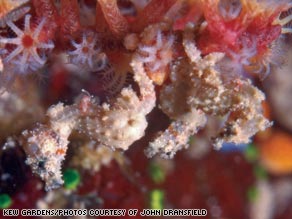 A tiny seahorse found in waters off Indonesia mades the top ten list of new species in 2008.
Once again, scientists have hauled ten previously unknown plant and animal species into the spotlight of humanity in their annual list of top 10 new species.
Step forward, a freak show of pea-sized seahorses, ghostly slugs and pint-sized snakes, the best of thousands of new species discovered in 2008.
They were selected from thousands of nature's newcomers by the International Institute for Species Exploration at the Arizona State University (ASU) and an international committee of taxonomists, scientists tasked with discovering and classifying new species.
"Most people do not realize just how incomplete our knowledge of Earth's species is or the steady rate at which taxonomists are exploring that diversity," says Quentin Wheeler, an entomologist and director of ASU's International Institute for Species Exploration.
"We are surrounded by such an exuberance of species diversity that we too often take for granted."
The list is dominated by tiny creatures, which may go some way to explain why they've gone undetected for so long. The smallest entry comes courtesy of Japanese scientists who discovered bacteria that lives in hairspray (Microbacterium hataononis).
Slightly larger and more consumer-friendly is the tiny seahorse (Hippocampus satomiae) found near off Derawan Island off Kalimantan, Indonesia which measures just over a centimeter in height and length.
The world's smallest snake also makes an appearance. Discovered in St. Joseph Parish, the Barbados Threadsnake (Leptotyphlops carlae) is just ten centimeters from tip to tail.
At the other end of the creepy-crawly scale is what could be the world's longest insect, a stick-like creature (Phobaeticus chani) found in Borneo which can grow up to 56 centimeters long.
Two entries on the list are fish. While one is alive and swimming, the other is a fossil of a fish giving birth some 380 million years ago. It was found by John Long who nicknamed his discovery "Josie," as a tribute to his mother.
New species found lurking in the garden include the ghost slug (Selenochlamys ysbryda), which despite its bright white appearance and "blade-like teeth" has been evading the locals in Cardiff, Wales for years.
Scientists say a species of snail (Opisthostoma vermiculum) found in Malaysia represents a "unique morphological evolution." Its shell twists around four axes.
Plants to have made the list include a gigantic new species and genus of palm (Tahina spectablilis) which produces an abundance of flowers then promptly dies. Fewer than 100 of the palms have been found in a small area of northwestern Madagascar.
The first recorded species of a caffeine-free coffee plant found in Central Africa (Coffea charrieriana) also makes the grade.
Competition for the top 10 spots was stiff. In 2007 alone, more than 18,500 new species were discovered. It's safe to assume just as many were found in 2008, if not more.

Wheeler says he expects the rate of new species discovered and named to accelerate as new tools come online.
"Charting the species of the world and their unique attributes are essential parts of understanding the history of life," Wheeler said. "It is in our own self-interest as we face the challenges of living on a rapidly changing planet."
E-mail to a friend