By Arthur Brice
CNN





(CNN) -- Mauricio Funes was inaugurated Monday as El Salvador's president, promising to work for the nation's poor and disadvantaged.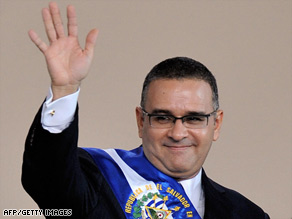 El Salvador's new president, Mauricio Funes, takes power Monday after his inauguration in San Salvador.
Funes, elected March 15, is a member of a political party that waged guerrilla war against the government 17 years ago. He is El Salvador's first leftist president.
"The Salvadoran public asked for a change, and that change begins now," Funes said in an inauguration speech before an audience that included Latin American leaders and U.S. Secretary of State Hillary Clinton.
Funes, a member of the FMLN party, won a narrow victory over the ARENA party's Rodrigo Avila. Funes' victory ended a 20-year hold on the presidency by the right-leaning ARENA.
With Funes' win, El Salvador joined other Latin American countries that have elected leftist leaders in recent years -- Venezuela, Bolivia, Nicaragua, Argentina, Honduras, Guatemala, Ecuador and Brazil.
The FMLN, which is the Spanish acronym for the Farabundo Marti National Liberation Front, was formed in 1980 as an umbrella group for five leftist guerilla organizations fighting a U.S.-backed military dictatorship. The guerrillas and the government signed a peace pact in 1992, and the FMLN became a legitimate political party.
By some estimates, 75,000 Salvadorans died during the war.
The new president will find "a country that still retains a lot of bitterness, a lot of division," Peter Hakim, president of the Washington-based Inter-American Dialogue policy institute, said before the election.
"This country is completely divided," ARENA party official Adolfo Torres said on CNN affiliate TCS TV on election night.
Funes acknowledged that division Monday, promising to "create a country without hate and without resentment."
He also seemed to acknowledge the difficulties ahead, saying, "We don't have the right to make mistakes."
Despite a dire economy, Funes promised an ambitious social program that would include construction of 11,000 homes, scholarships for children ages 6 to 18 and improvement in delivery of water, electricity and sanitary services to 32 poor municipalities.
He may be hard-pressed to follow through, some analysts said.
"Once Funes assumes office on 1 June, his government will face major challenges to boost the economy, cut government expenditures to trim the fiscal deficit and maintain support to the poor, who are being hit hardest by the economic downturn," analyst Heather Berkman wrote in a report last week for the Eurasia Group consulting firm.
"Cutting expenditures and reducing the deficit will be the most important challenges," Berkman wrote, adding that to "do this, the Funes administration plans to cut government spending and eliminate redundant presidential commissions; retarget propane subsidies (and perhaps eventually eliminate them); and propose a number of new taxes on alcoholic beverages, tobacco and new vehicles."
Funes campaigned on a platform of fiscal reform that aims to increase the government's tax take incrementally, Berkman said.
Funes did not offer any details Monday, speaking instead in general terms of the El Salvador he would like to see under his five-year administration.
He will not, Funes said, "govern for a few or be complacent to corruption."
Funes, a former freelance journalist for CNN en Español, noted in particular that his administration will fight organized crime and narcotraffickers.
"In this government," he said, "those who have merit will be compensated and those who are guilty will be punished."
E-mail to a friend

All About El Salvador • Mauricio Funes