(CNN) -- Eighteen people, including two soldiers, were killed Saturday in a gunbattle between the Mexican army and organized-crime suspects in the Mexican resort town of Acapulco, the Mexican Ministry of Defense said Sunday.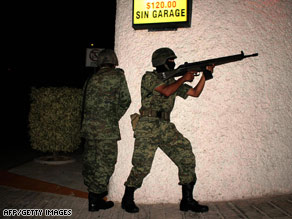 Mexican soldiers hold rifles Saturday during a clash with organized-crime suspects in Acapulco.
The incident began about 7 p.m., when the soldiers went to a location called Avenida Rancho Grande in Acapulco "to exploit information obtained through an anonymous tip," the ministry said in a statement. The soldiers were met by gunfire, it said.
Five people were arrested in connection with the shootout. Two soldiers and 16 gunmen were killed, and nine soldiers were wounded, the statement said.
The gunmen were not identified, but the statement called them "members of organized crime."
Authorities seized 36 large-caliber weapons, 13 small-caliber weapons, two grenade launchers, 13 fragmentation grenades, 3,525 rounds of various caliber ammunition, 180 charges and eight vehicles, the ministry said.
E-mail to a friend

CNN's Arthur Brice and CNN en Español's Luisa Calad contributed to this report.