(CNN) -- Deposed Honduran President Jose Manuel Zelaya will once again try to return to his homeland after a series of meetings in Washington this week, he said in an interview with CNN en Español Monday night.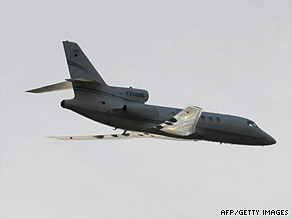 A plane carrying ousted Honduran President Manuel Zelaya flies over Tegucigalpa on Sunday.
Zelaya failed in a attempt to return Sunday, after the government of provisional President Roberto Micheletti prohibited his plane from landing.
Zelaya is expected to arrive in Washington on Tuesday for meetings with U.S. and foreign officials, likely including Secretary of State Hillary Clinton, a senior U.S. official told CNN.
"We're very focused on the need for a dialogue to restore him and to restore the democratic order," State Department spokesman Ian Kelly said.
Zelaya was ousted June 28, the day that he planned to follow through with a referendum that the courts and the Honduran Congress had ruled illegal and that the military said it would not support. Lawmakers voted to strip Zelaya of his powers and named Micheletti as president.
The United Nations, Organization of American States and United States have condemned the coup, yet international pressure to date has not proved enough for Zelaya to return to power.
"I ask the United States to do more than the other countries of the world," Zelaya told CNN en Español.
Upon completing his meetings, Zelaya said he was making plans to make a second attempt to return to Honduras.
The interim government repudiates the characterization of the transfer of power as a coup. Micheletti has said the military action against Zelaya was backed by a court order and that arrest warrants had been issued against him for violating the constitution.

Watch military block runway »
Asked whether he would return to Honduras, even if it means being arrested, Zelaya replied, "Of course. I have never hidden from justice."
A trial and a chance to defend and clear his name would be a possible resolution to the conflict, Zelaya told CNN en Español. "I have not committed any crime," he said.
In brief televised remarks Monday night, Micheletti remained steadfast that his government was upholding the nation's constitution.
Don't Miss
"We have demonstrated we are a country of laws, which must be followed," Micheletti said.
Supporters of Zelaya demonstrated near the presidential palace and blocked some roads Monday.
Micheletti's supporters planned for a large rally Tuesday.
A 19-year-old man was killed and at least eight were wounded after security forces opened fire and used tear gas on several thousand protesters who ringed the airport in anticipation of Zelaya's attempted return Sunday. Protest leaders put the death toll at three.
The OAS on Saturday suspended Honduras' membership for refusing to reinstate Zelaya. The U.N. General Assembly has demanded that he be restored; the United States and the World Bank have suspended some aid; and the European Union and other nations have recalled their ambassadors from Honduras.

Watch report on OAS suspension of Honduras »
In remarks Sunday, Micheletti extended a diplomatic branch to Venezuela's Hugo Chavez and Nicaragua's Ortega, two of Zelaya's closest allies. The interim leader said his government was open to good-faith talks with the OAS, but reiterated that his government was legitimate.
"We are going to remain here until the country becomes calm," he said.

After 18 years of nearly uninterrupted military rule, Honduras returned to civilian control in 1981. Since then, the military has not seemed interested in holding power in the nation of more than 7 million people, about 70 percent of whom live in poverty.
Military interventions were once common in Latin America, but civilian governments have held sway since the 1980s. Before Sunday, the only other barracks revolt this decade was an unsuccessful 2002 coup attempt against Chavez, when the military displaced him, but backed down days later and allowed his reinstatement.

E-mail to a friend

CNN's Charley Keyes contributed to this report.
All About Honduras • Organization of American States • Jose Manuel Zelaya