LIMA, Peru (CNN) -- Thousands of police and military forces were dispatched in capital's streets Wednesday to maintain order during the second day of a national strike led by unions and civil groups.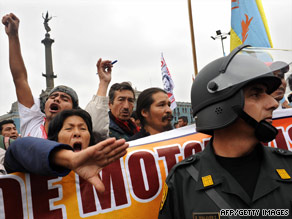 Public transportation service workers protest in Lima, Peru, on Wednesday during a strike against the government.
But the force proved largely unnecessary as street protests were limited.
The country's largest workers union, along with the teachers and transportation union, among others, called for a sustained protest this week against the free-market policies of President Alan Garcia.
Since his election in 2006, Garcia has forged a free trade agreement with the United States and used decree powers to make it easier for companies to gain concessions in the Peruvian Amazon regions. The laws affecting the Amazon created a strong backlash from indigenous groups.
An ensuing protest and police action left at least 35 dead near the Amazonian city of Bagua in northwest Peru on June 5.
The smaller protest Wednesday may have been influenced by Garcia's announcement Tuesday that a shakeup of his Cabinet is imminent, as some striking groups had called for.
The government induced workers to return to the workplace Wednesday by offering bonuses of 20 soles, or about $7, for whose who were on the job, CNN en Español's Maria Elena Belaunde reported from Lima.
While protests were smaller in Lima, there were reports of demonstrations outside the capital.
Train service in the Andean tourist destination of Cusco was suspended, school were canceled because of protests in the city of Ayacucho, and a highway was blocked in Arequipa, Belaunde reported.
E-mail to a friend

All About Peru • Alan Garcia • Protests and Demonstrations