(CNN) -- A former Bolivian interior minister accused of human rights violations was handed over to authorities in his home country Thursday after completing a prison sentence in the United States.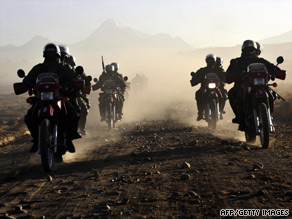 Police on motorcycles escort Luis Arce Gomez to jail in Boliva on Thursday after his deportation from the U.S.
Luis Arce Gomez, 71, was deported and handed over to Bolivian authorities in La Paz on Thursday morning, U.S. Immigration and Customs Enforcement said.
"I hope last night's removal brings justice to the people of Bolivia who were victimized by the reprehensible acts that this man committed," Michael Rozos, director of the ICE office of detention and removal in Florida, said in a statement.
Gomez, nicknamed "Minister of Cocaine," was an army colonel who helped bring the regime of Luis Garcia Meza Tejada to power in Bolivia in 1980, and served as Meza's interior minister.
Gomez was convicted by Bolivian courts of human rights violations including genocide, armed uprising, constitutional violations and murder, according to the ICE statement.
But Gomez did not serve the 30-year sentence imposed on him in Bolivia because he was already imprisoned in the United States on drug trafficking charges. He was convicted in Florida in 1991 and was in federal prison until November 2007, when he was transferred to ICE custody to begin removal proceedings.
Although Bolivia had an extradition request for his return, the United States instead used the deportation process to repatriate Gomez to his homeland.
E-mail to a friend

All About Bolivia • U.S. Bureau of Immigration and Customs Enforcement