SAN JOSE, Costa Rica (CNN) -- Talks between two bitterly opposed sides in Honduras' ongoing political crisis were "frank, sincere and very transparent," but a resolution may not come quickly, Costa Rican President Oscar Arias said Thursday night.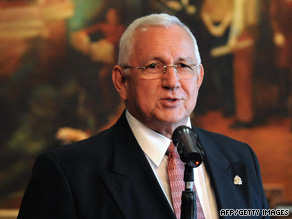 Roberto Micheletti is the interim president of Honduras. He said Thursday he is leaving talks in Costa Rica.
"Dialogue can produce miracles, but not instantly," said Arias. "This could take more time than what one could've imagined."
Arias was mediating talks between the delegations representing deposed Honduran President Jose Manuel Zelaya and his successor, interim President Roberto Micheletti.
Both sides had the willingness to continue the talks, Arias said.
But chances of a face-to-face meeting between Zelaya and Micheletti evaporated when Micheletti announced he was going home.
"The dialogue has begun, and our committee remains at work," Micheletti told reporters.
The interim president, who was named by the Honduran congress after the June 28 military coup that ousted Zelaya, spoke after an initial round of talks in Costa Rica aimed at resolving the political crisis.
Micheletti spoke with Arias for three hours Thursday afternoon.
Arias had held a separate one-on-one meeting with Zelaya earlier in the day.
The second round of negotiations will be a meeting between delegations from the two camps. A talked-about third round, a meeting between Micheletti and Zelaya, was put in doubt by Micheletti's planned departure.
"We hope our dialogue continues being guided by our faith in God and the hope of finding peace in our Honduras," Micheletti said.
Both sides had drawn hard lines before the highly anticipated talks.
Zelaya, who arrived Wednesday night, said he was there merely to listen.
Don't Miss
"I want to clarify that our presence here does not represent any negotiation," Zelaya told reporters at the airport in San Jose. "It's simply listening through a mediator ... to the approach of those who ... kicked out their servant and brought him here by force at dawn on the 28th of June of 2009, to see how they are planning their departure."
Arias acknowledged the clashing views but expressed optimism.
"They are distant, different positions," he told reporters in San Jose on Wednesday. "But we are going to begin and that softens positions. In every dialogue, one gives. To do that is to get closer."
Micheletti has adamantly denied there was a coup, insisting instead that Zelaya was ousted through a constitutional process in which the supreme court and the national assembly participated.
Zelaya, a leftist who took office in 2006 on a narrow victory, had been at odds with Honduran lawmakers, the supreme court and the military over a referendum he had planned to hold last month. Congress had forbidden it, and the supreme court ruled it illegal.
Zelaya sought the referendum to see if voters wanted a measure on November's ballot to establish a constitutional assembly to study whether a president could run for re-election. Under the current charter, a president can serve only one four-year term.
Venezuelan President Hugo Chavez, a Zelaya ally, won a similar referendum this year, and many Hondurans thought Zelaya was trying to maneuver a way to seek re-election in November -- an assertion he has denied.
Zelaya vowed to hold the vote anyway but was toppled before the voting started.
After 18 years of nearly uninterrupted military rule, Honduras returned to civilian control in 1981. Since then, the military had not seemed interested in holding power in the nation of more than 7 million people, about 70 percent of whom live in poverty.
Military interventions were once common in Latin America, but civilian governments have held sway since the 1980s. Before Honduras' incident, the only other barracks revolt in the region this decade was an unsuccessful 2002 coup attempt against Chavez, when the military displaced him but backed down days later and allowed his reinstatement.

E-mail to a friend

All About Jose Manuel Zelaya • Roberto Micheletti • Honduras • Costa Rica