By Mike M. Ahlers
CNN





WASHINGTON (CNN) -- Despite massive security efforts north and south of the border, the drug-fueled killing spree in Mexico is continuing and is on course to surpass last year's record toll, federal officials told Congress Thursday.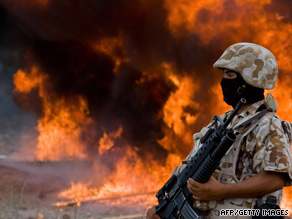 Mexican marine stands guard as 7,000 kilograms of marijuana are incinerated in Mexico's Sonora state.
But there's little indication that significant cartel violence is spilling into U.S. border communities or elsewhere in the United States, they said.
"The bloodshed [in Mexico] has escalated in recent months to unprecedented levels," Assistant Attorney General Lanny Breuer said in a prepared statement.
Some 3,600 people were slain in Mexico in the first half of this year, putting the death toll on track to surpass the 6,200 people killed in all of 2008, said Anthony Placido, assistant administrator for intelligence at the Drug Enforcement Administration.
Officials testifying at a House hearing said the increasing violence is an indication that a crackdown by Mexican President Felipe Calderon is working and that drug traffickers are fighting over a diminishing turf.
They said it is imperative that the United States support Calderon.
"We can not permit President Calderon to fail," said Breuer. "This may be a once-in-a-generation opportunity [because of] his courage and willingness to take on the cartels," Breuer said.
"The consequences are very extraordinary and we need to deploy the appropriate resources and skill and collaboration to make sure we do everything we can to support [Calderon]."
Asked if the United States is winning the drug war, Breuer said, "Yes."
"That's not to say that we don't have much to do, but if you look at the work that has occurred," the government has hurt cartel operations, he said.
The nation's new border czar agreed.
"I think we have a ways to go, but I am in accord with Mr. Breuer that ... we are making progress and that it's measurable progress," said Alan Bersin, the special representative for border affairs within the Department of Homeland Security.
Officials declined to say whether they believed the U.S. National Guard should be deployed to the region, saying the secretaries of defense and homeland security were studying the issue and would make a recommendation to the president.
Thursday's hearing was before the House Committee on Oversight and Government Reform.
E-mail to a friend

All About Mexico • Drug Trafficking • Murder and Homicide • Felipe Calderon