By Yann Martel
Author





Yann Martel, award-winning author of the "Life of Pi," has spent the last three weeks trekking in the Andes mountains in Peru. He's there with Cape Farewell, a British organization that aims to increase awareness of climate change by taking artists and musicians to see its impact first hand. Here he writes exclusively for CNN.
PUERTO MALDONADO, Peru -- I am writing these words in Puerto Maldonado, a hot and bustling town in the south-east of Peru.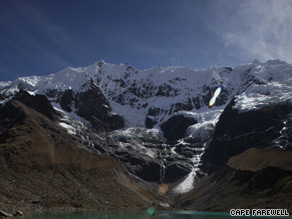 The team of 18 artists and scientists prepare to camp overnight near the Humantay Glacier Lake.
The town is bustling because its economic prospects look good. It lies near fields of oil and gas, gold mining has been going on in the nearby rivers for years, tourism brings in its share of revenue and -- the final blessing -- the paving of the Inter-Oceanic Highway is nearly complete.
This highway links Peru to South America's economic superpower, Brazil, and will make commerce with Puerto Maldonado easier and more appealing. So the future looks bright, right?
Not quite. Why? Because Puerto Maldonado sits in the Amazonian basin. The town is surrounded by the greatest biodiversity this planet has to offer. The average hectare of North American forest contains five species of trees. The average hectare of forest in the Amazon boasts over two hundred. A single tree here may be home to over a hundred species of termites. Professor Yadvinder Malhi of Oxford University, an expert on ecology, told me that likely 80 percent of animal species in the Amazon rainforest are still unknown to science. Life here is so abundant it's claustrophobic and overwhelming.
Don't Miss
But it's not indestructible. And that's why I'm here, with others from the Cape Farewell project. Cape Farewell is a British NGO that brings together artists and climate change scientists. The scientists come to work, the artists come to watch, learn and, eventually, each in his or her own way, to react. The aim is to broaden the dialogue about climate change so that it becomes a broader cultural issue, involving each of us in a whole-person way beyond the narrower strictures of politics or science.
Cape Farewell has organized a number of expeditions to the Arctic, that canary in the coalmine when it comes to climate change. Witness of these expeditions can be found on the organization's excellent Web site. This trip to Peru has been the first organized by Cape Farewell to look at the effects of climate change in the tropics.
It's been a memorable trip. We started high and dry, at 14,000 feet to be exact, camping near some fast-disappearing Andean glaciers not far from Cusco, and we've been moving steadily downwards in the last three weeks to the low and the very wet.
Going Green
A half-hour special investigating the balance between business and the environment


On our way, we trekked the Trocha Union, a cloud forest trail that was so rich and dense with vegetation that we regularly stooped through tunnels of it, roots falling around us like static rain. We also traveled by boat down the Madre de Dios river, one of the many tributaries of the mighty Amazon, visiting a number of field stations where scientists from various universities are studying the stupendous wealth of the Amazonian ecosystem.
What have I learnt? It's too early yet to say for sure, but I'll venture this: We, all of us, must learn that fine balance between the prosperity of our own species and the well-being of the planet, we must, like hot and bustling Puerto Maldonado, manage our economic assets so that our affairs continue to be bustling without our environment becoming too hot.
E-mail to a friend