(CNN) -- Former Peruvian President Alberto Fujimori admitted he gave his one-time spy chief $15 million from government coffers, but the money was returned and no crime was committed, his attorneys said at the opening of an embezzlement trial Monday in Peru.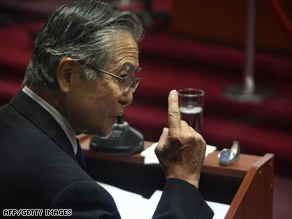 Former Peruvian President Alberto Fujimori speaks in court in Lima, Peru, in April.
Fujimori stands accused of taking $15 million in public funds in 2000 to give to his right-hand man, spy chief Vladimiro Montesinos, as a bonus in the waning days of his government.
Prosecutor Avelino Guillen disputed that the money had been returned, and asked the judge to sentence the disgraced president to eight years in prison and a fine of 2 million new soles (about $650,600), the state news agency Andina reported.
"Fujimori seized the public treasury to give Montesinos a reward for his work during the regime, the crime of embezzlement happened when he took those funds from the state," Guillen said.
Defense attorney Cesar Nakazaki said he had evidence that the money had been returned, and therefore there was no embezzlement, Andina reported.
Don't Miss
Fujimori gave the money to Montesinos in September 2000. Two months later, caught in a corruption scandal involving Montesinos, Fujimori fled to Japan and resigned as president.
Monday's hearing was cut short because of a request from the defense for medical attention for Fujimori, who was suffering from high blood pressure.
The trial will resume Wednesday and a ruling could come down Friday, Judge Cesar San Martin said, according to Andina.
Fujimori, who was a president from 1990 to 2000, is a controversial figure in Peru. He is credited with restoring economic stability to the country and defeating the Shining Path guerillas, who carried out terrorist attacks. But Fujimori had an authoritarian streak that led to accusations of human rights abuses and corruption.
In April, he was sentenced to 25 years in prison for authorizing the operation of a death squad responsible for killing civilians.
E-mail to a friend

All About Peru • Alberto Fujimori