SAN JOSE, Costa Rica (CNN) -- Delegates for deposed Honduran President Jose Manuel Zelaya have agreed to a seven-point proposal that would return him to power. But representatives for provisional President Roberto Micheletti said late Saturday they need more time to study the matter.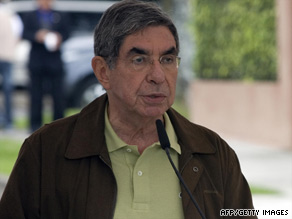 Costa Rican President Oscar Arias, serving as mediator Saturday, says the two sides face "challenges."
Zelaya has proposed returning to Honduras on Friday, said his representative, Rixi Moncada.
The two sides are still far apart, said Costa Rican President Oscar Arias, who is holding the talks at his home. The two sides agreed to resume negotiations Sunday morning.
"We have had a dialogue, a debate, a discussion," Arias said after the daylong negotiations Saturday. "They were frank but constructive. Certainly there are many differences."
Earlier Saturday, Arias outlined seven steps he believes need to be taken. The first step, he said, is that Zelaya must be returned to power.
Micheletti's representatives said they need more time to review the suggestions, saying that they "have received with interest the proposal made by" Arias.
"There is no agreement but we are prepared to examine the different points that Mr. Mediator has proposed," said Micheletti representative Carlos Lopez.
Zelaya was removed from office June 28 in a military-led coup that has drawn international condemnation. Congressional leader Micheletti was sworn in hours later as provisional president.
Delegations representing Zelaya and Micheletti met at Arias' home in Costa Rica last week but did not reach an accord. The bitterness is so deep -- and the two sides are so entrenched -- that they would not shake hands at the conclusion of the day's negotiations.
Still, Arias held out hope Saturday.
"Force was the origin of this problem but it will never be its solution," he said before the talks began.
Don't Miss
"We crossed this threshold aware of the challenges we face, but also convinced that there is no wall so tall that it can't be climbed by the force of willpower. We closed the door in order to reach accords. We expect to open them to announce those accords."
The talks started Saturday morning and continued late into the night.
Other steps proposed by Arias include moving up elections scheduled for late November, establishing a national unity government, providing amnesty for all political crimes and setting up an international commission to oversee implementation of the accord.
Under Arias' proposals, oversight of the Honduran military would switch from the executive branch of government to the Supreme Electoral Tribunal one month before the elections.
Arias also said Zelaya must renounce attempts for a referendum on whether to establish a constitutional assembly.
Zelaya, a leftist who took office in 2006 on a narrow victory, had been at odds with Honduran lawmakers, the country's supreme court and the military over the referendum, which he had planned to hold last month. Congress had forbidden it and the supreme court ruled it illegal. The military declined to participate in its usual role of safeguarding the vote, saying it could not take part in an illegal act.
Zelaya vowed to hold the vote anyway, but was toppled before the voting started.
He sought the referendum to see if voters wanted a measure on November's ballot to establish a constitutional assembly to study whether a president could run for re-election. Under the current charter, a president can serve only one four-year term.
Venezuelan President Hugo Chavez, a Zelaya ally, won a similar referendum this year and many Hondurans thought Zelaya was trying to maneuver a way to seek re-election in November -- an assertion he has denied. His term ends in January.
After 18 years of nearly uninterrupted military rule, Honduras returned to civilian control in 1981. Since then, the military did not seem interested in holding power.
E-mail to a friend

Journalist Djenane Villanueva contributed to this report for CNN.
All About Roberto Micheletti • Honduras