SAN JOSE, Costa Rica (CNN) -- Honduras' interim government on Sunday rejected a proposal to reinstate ousted President Jose Manuel Zelaya, ending a round of negotiations aimed at resolving the country's political crisis.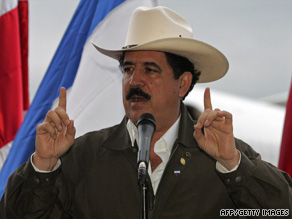 Jose Manuel Zelaya was ousted from the Honduran presidency on June 28.
The proposal had been presented by Costa Rican President Oscar Arias, who was mediating the talks between the two Honduran sides at his home over the weekend.
"I'm very sorry, but the proposal you presented [is] unacceptable by the government of Honduras that I represent," Carlos Lopez, who was representing interim Honduran President Roberto Micheletti at the weekend negotiations, said of the proposal advanced by Arias.
Representatives of Zelaya, who was ousted in a June 28 coup, said this marked the end of talks with Honduras' interim government.
The weekend's talks were the second attempt by Arias to negotiate a resolution. He vowed Sunday to continue his mediation efforts.
"I want to take 72 hours to continue working, even more arduously this time, to see if we can really reach an agreement between the parties in this conflict," Arias said.
Arias expressed concern that violence could ignite in Honduras if the sides stop talking, and that a civil war could result.
Shortly after announcing the end of the negotiations, Lopez indicated in an interview with CNN en Español that Micheletti's delegation would be open to further talks in the future.
At a news conference later Sunday, the head of the Organization of American States said he had been enthusiastic about the proposal advanced by Arias.
"We regret deeply the attitude of Micheletti," said OAS Secretary General Jose Miguel Insulza. "I think [the proposal] was a good one."
The proposal, presented by Arias to both sides on Saturday, would have returned Zelaya to the Honduran presidency. It would also have compelled Zelaya to abandon efforts to modify the country's presidential term limits.
In remarks to reporters before starting Sunday's talks, representatives of Zelaya said he accepted the seven-point proposal.
Micheletti has said he would not accept Zelaya's return as president, and remarks by Zelaya printed in a Brazilian newspaper contradicted Zelaya's acceptance of the proposal, Micheletti negotiator Arturo Corrales said.
In Sunday's editions of the Folha newspaper, Zelaya was quoted in support of continuing with his push for a reform to term limits.
"We cannot betray the people and abandon the process," the paper quoted Zelaya as saying.
"Yesterday they said one thing, and today another," Micheletti negotiator Corrales said, adding that Zelaya's remarks broke the good faith behind the talks.
The newspaper, however, noted that Zelaya was interviewed one day before he agreed to Arias' seven-point proposal.
Zelaya was removed from office June 28 in a military-led coup that has drawn international condemnation. Congressional leader Micheletti was sworn in hours later as provisional president.
Micheletti and his supporters, including the Honduran supreme court, congress and the military, argue that the action was not a coup, but a constitutional transfer of power.
Other steps proposed by Arias included moving up elections scheduled for late November, establishing a national unity government, providing amnesty for all political crimes and setting up an international commission to oversee implementation of the accord.
Under Arias' proposal, oversight of the Honduran military would have switched from the executive branch of government to the Supreme Electoral Tribunal one month before the elections.
Delegations representing Zelaya and Micheletti also met at Arias' home in Costa Rica last week but did not reach an accord.
Zelaya, a leftist who took office in 2006 on a narrow victory, had been at odds with Honduran lawmakers, the country's supreme court and the military over his attempts for a referendum.
He sought the referendum, which he planned to hold last month, to see if voters wanted a measure on November's ballot to establish a constitutional assembly to study whether a president could run for re-election. Under the current charter, a president can serve only one four-year term.
Congress had forbidden the referendum and the supreme court ruled it illegal. The military declined to participate in its usual role of safeguarding the vote, saying it could not take part in an illegal act.
Zelaya vowed to hold the vote anyway, but was toppled before the voting started.
E-mail to a friend

All About Roberto Micheletti • Honduras • Jose Manuel Zelaya