(CNN) -- Pressure for a resolution to a political standoff in Honduras has increased after the breakdown of talks between the two sides over the weekend.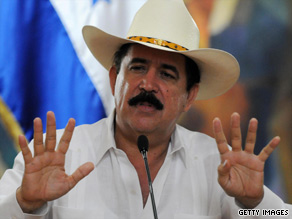 Honduran President Jose Manuel Zelaya was ousted in a military-led coup.
The European Union on Monday suspended aid to the Central American country, which has found itself increasingly isolated since the June 28 military-led coup that ousted President Jose Manuel Zelaya.
Representatives of Zelaya over the weekend failed to reach an accord with representatives from the interim Honduran government of Roberto Micheletti, who was sworn in hours after the military detained Zelaya and sent him to Costa Rica.
"I very much regret that it has not been possible to this date to arrive at a mutually agreeable solution to the Honduran crisis," said Benita Ferrero-Waldner, the EU's commissioner for external relations and European neighborhood policy.
"In view of the circumstances, I have taken the difficult decision to suspend all budgetary support payments," she said.
A European Commission source told CNN that budgeted aid to Honduras totaling 65.5 million euros ($93 million) has been suspended.
Also Monday, U.S. Secretary of State Hillary Clinton spoke with Micheletti on the phone, warning of harsh consequences for relations between the two countries if an accord wasn't reached, according to a State Department spokesman.
Don't Miss
In televised remarks in Honduras, Micheletti indicated that he trusted the mediation efforts of Costa Rican President Oscar Arias, but that he would not accept Zelaya's return as president.
The interim government's position is that Zelaya's removal was not a coup, but a constitutional transfer of power following an abuse of power by the ousted president.
"Listen to our version, that is my message," Micheletti said.
Zelaya was ousted as he was pursuing a referendum that the country's supreme court and congress found to be illegal. The nonbinding referendum could have led to the creation of a constitutional assembly to modify the country's charter to allow the president to run for re-election.
Venezuelan President Hugo Chavez, a Zelaya ally, won a similar referendum this year, and many Hondurans thought Zelaya was trying to maneuver a way to seek re-election in November. Zelaya has denied that was his intent.
Honduran presidents are limited to one term. Zelaya won the presidency in 2005.
Meanwhile, in Washington, members of the Organization of American States, which had passed a resolution condemning Zelaya's ouster and asking for his reinstatement, called for both sides to resume the talks.
On Sunday, talks broke down after Micheletti's side rejected a proposal, presented by Arias, that included restoring Zelaya to power.
At the OAS meeting on Monday, Costa Rican Ambassador Jose Enrique Castillo Barrantes denied the talks had failed.
In remarks that appeared to contradict the previous day's statements from the two parties, Castillo said Micheletti had not rejected Arias' proposal, but needed more time to consult with other bodies -- such as the military, the supreme court and the electoral commission -- that would have a role to play if the proposal were approved.
"The mediation is on track," Castillo said.
Hector Morales, the U.S. ambassador to the OAS, asked both sides to "put aside comments that are antagonistic and self-serving."
E-mail to a friend

All About Jose Manuel Zelaya • Honduras • European Union