LAS MANOS, Nicaragua (CNN) -- Ousted Honduran President Jose Manuel Zelaya returned to his nation's border briefly Saturday, a day after crossing a few yards into Honduras and then leaving for a nearby Nicaraguan town a few hours later.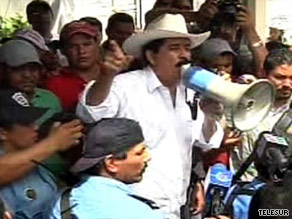 Jose Manuel Zelaya says he will keep fighting to return to power.
Saturday's visit was even shorter -- about 20 minutes -- and Zelaya stayed inside Nicaragua, about 50 meters (165 feet) away from the Honduran border. After speaking to about 50 supporters, Zelaya returned to Ocotal, the town where he had spent Friday night. He said had to attend some meetings.
"We are not alone," Zelaya told supporters through a megaphone. "We are with God. We are with the people."
Zelaya, ousted in a military-led coup June 28, has been told by provisional Honduran President Roberto Micheletti that he would be arrested if he returns to the country.
Asked Friday night in an interview with CNN en Español why he did not try to enter farther into Honduras, as he had vowed to do, Zelaya said he didn't want to cause any violence.
"You have a correspondent here who can tell you how aggressive the military has been acting," Zelaya told CNN en Español anchor Patricia Janiot.
Micheletti, also interviewed Friday night on CNN en Español, said troops did not pursue Zelaya because he was in a neutral zone between the two countries.
"If we had tried to capture him there," Micheletti said, "we could have been in Nicaraguan territory. We don't want any problems with Nicaragua."
The Honduran military and police have set up roadblocks to try to prevent Zelaya supporters from reaching the border. Some supporters said they have taken back roads through the mountains to reach the Honduran town of El Paraiso, where they have gathered but have been prevented from reaching the nearby border.

Watch Zelaya cross the border »
Authorities also have established a strict curfew for the area.
Honduras' top military official, General Romeo Vasquez Velasquez, rejected accusations by Zelaya that he would be responsible if something happened to the ousted president.
"Look," Vasquez told CNN en Español on Saturday, "we are soldiers, not assassins. Soldiers have the mission of defending our homeland, to give up our lives to defend the territory where we were born, to protect people."
Micheletti, who was sworn in hours after Zelaya was removed from office, said Friday night that his country is willing to continue negotiations. Two previous rounds hosted by Costa Rican President Oscar Arias were deadlocked over the Honduran government's refusal to allow Zelaya to return to power.
"I offered several days ago to give up my position if Mr. Zelaya would stop inciting his followers to violence," Micheletti told CNN en Español.
Micheletti said Zelaya had no intention of returning to Honduras, but went to the border area to keep causing problems.

Watch a report on Zelaya's return »
"We have received information that they want to continue with these type of actions that only incite the public," he said.
In Washington, the State Department issued a travel alert for Honduras on Friday, and Secretary of State Hillary Clinton criticized Zelaya's actions.
"We have consistently urged all parties to avoid any provocative action that could lead to violence," Clinton said. "President Zelaya's effort to reach the border is reckless. It does not contribute to the broader efforts to restore democratic and constitutional order in the Honduras crisis."

Watch Clinton criticize Zelaya's actions »
The State Department warning "alerts American citizens to the current unstable political and security situation in Honduras, and recommends that American citizens defer all non-essential travel to Honduras until further notice."
The Honduran political crisis stems from Zelaya's desire to hold a referendum that could have led to extending term limits by changing the constitution, even though the country's Congress had outlawed the vote and the Supreme Court ruled it illegal.
The takeover has drawn international condemnation, including demands by the United Nations General Assembly, the Organization of American States and the European Union that Zelaya be reinstated.
The proposal put forth by Arias in Costa Rica a week ago also called for Zelaya to be restored to power. The Honduras Supreme Court ruled that Zelaya could not be reinstated, so the Micheletti delegation rejected the proposal.
Micheletti has steadfastly rejected characterization of the takeover as a coup, saying Zelaya's removal was a constitutional transfer of power.

He repeated that contention Friday night.
"There has been no coup, because in a coup the military remains in power," he told CNN en Español.
E-mail to a friend

CNN's Karl Penhaul contributed to this report.
All About Honduras • Nicaragua • Jose Manuel Zelaya • Roberto Micheletti