(CNN) -- Shoulder-launched anti-tank weapons purchased by Venezuela have ended up in the hands of guerrillas, Colombian Vice President Francisco Santos said.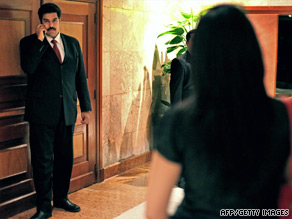 Venezuelan Foreign Minister Nicolas Maduro talks on the phone with President Hugo Chavez in Caracas Monday.
In an interview with Caracol Radio Monday, Santos addressed local reports of anti-tank weapons manufactured in Sweden being seized from members of the Revolutionary Armed Forces of Colombia, or FARC, and traced to Venezuela.
"This is not the first time that this happens," Santos said. "In several operations in which we have recovered weapons from the FARC, we have found powerful munitions and powerful equipment, including anti-tank weapons, from a European country that sold them to Venezuela and that turned up in the hands of the FARC."
The weapons have been identified as AT4 shoulder-fired rockets manufactured by Saab Bofors Dynamics in Sweden, according to Jane's Defence Weekly.
They were seized in 2008 from a guerrilla base, the Colombian magazine Semana reported.
Jan-Erik Lovgren, the Swedish official who oversees weapon exports, told Radio Sweden on Monday that his country stopped selling weapons to Venezuela in 2006.
Venezuela on Monday denied allegations that they gave the weapons to the guerrilla group.
"To me it seems that this is a new attack against our government based on lies," Venezuelan Minister of the Interior and Justice Tareck El Aissami said at a news conference Monday.
"We absolutely deny that our government or our institutions are providing assistance to criminal and terrorist organizations," El Aissami told reporters. "It's laughable, it sounds like a cheap film made by the American government."
Previous instances of Venezuela's government being accused of aiding the FARC include one last year, when the U.S. Treasury Department accused two senior Venezuelan intelligence officials and one former official of assisting the guerrillas with drug trafficking.
The department froze any assets the three men may have under U.S. jurisdiction and prohibited Americans from conducting business with them.
E-mail to a friend