(CNN) -- Activities planned for Sunday at an outdoor country music festival in Canada were called off after one person was killed and at least 15 others were injured in the collapse of an outdoor stage Saturday.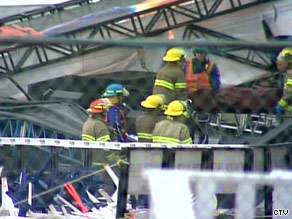 Rescue workers remove a victim from the debris caused by Saturday's stage collapse at the Big Valley Jamboree.
Two people remained in critical condition Sunday, festival officials said.
The collapse took place at about 6 p.m. Saturday (8 p.m. ET) as severe weather moved through the area. About 15,000 people were in the concert bowl when the front moved in, and officials were in the process of evacuating them when the collapse occurred, said Camrose Police Chief Darrel Kambietz.
Panhandle Productions Ltd., producers of the Big Valley Jamboree in western Canada's Alberta province, said in a statement that "Sunday's activities at Big Valley Jamboree 2009 will be canceled due to the collapse of the concert bowl stage."
While police said 15 people were injured, the production company said "as many as 75 people with various injuries were treated at medical facilities and have been in contact with family members." Emergency personnel worked through the night to make sure everyone was accounted for, the statement said.

Watch survivor recount moments after collapse »
"We are deeply saddened by the events of Saturday night," said event producer Larry Werner in the statement. "Our thoughts and prayers go out to all of the families, fans and friends impacted by this incident."
Billy Currington, a rising country star, was on stage when the storm hit, a source close to Currington told CNN, and his tour manager was literally pulling him off the stage when the collapse occurred. Currington suffered a mild concussion, scrapes and bruises, the source said, and was released from a hospital Sunday morning.
His bass guitarist, Alex Stevens, was trapped under the fallen stage and his arm was crushed, said the source. Stevens underwent surgery Saturday night but could be released from the hospital as soon as today, according to the source.
The four-day festival attracts an average of 25,000 people a day.
Actor and film producer Kevin Costner and his band "Modern West" had been scheduled to take the stage Saturday evening, but the collapse happened just before they were to go on.
Costner's publicist, Arnold Robinson, said Costner went to the hospital with two of his crew members who were injured. The two were treated and released, Robinson said.

Costner visited with others who were injured in the collapse while there, Robinson said.
"We are so saddened by the loss of life and injury that occurred on a day that carried so much promise, but turned so wicked so quickly," Robinson said. "We hope to return to Alberta in the future to help with the healing."
E-mail to a friend

CNN's Patty Lane and Denise Quan contributed to this report
All About Alberta