(CNN) -- Ecuadorian President Rafael Correa was sworn in for a second term on Monday, reaffirming in a speech his dedication to the country's poor and accusing the media of aiding his critics.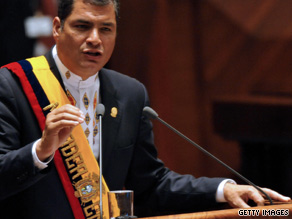 Correa speaks during the swearing-in ceremony for his second term in office.
The inauguration fell on the same day as Ecuador's bicentennial celebration.
Correa, a leftist ally of Venezuelan President Hugo Chavez, has faced criticism for defaulting on billions of dollars in bonds and increasing the state's grip on the economy. He was re-elected in April, winning 55 percent of the vote.
"We are well aware that we are the government for all Ecuadorians," Correa said at the inauguration. "But let there be no doubt that the priority are the poor, the youth and the indigenous communities."
Correa also accused the media of being manipulated by business interests opposed to his government.
Correa, 46, burst onto the national scene in 2005, when he served briefly as finance minister for President Alfredo Palacio. Correa then ran for president in December 2006, narrowly winning in a runoff.
Don't Miss
When Correa took office in January 2007, he had been out of school for little more than four years.
After earning a bachelor's degree in Ecuador in 1987, Correa earned a master's degree in economics from the Universite Catholique de Louvain in Belgium in 1991 and master's and doctoral degrees in economics from the University of Illinois at Urbana-Champaign in 1999 and 2001.
Correa on Monday hosted a summit of South American leaders known as the Union of South American Nations, or Unasur, where he assumed the rotating presidency of the group.
The group decided to host a follow-up summit later this month to discuss the hot-button issue of possible American military bases in Colombia.
E-mail to a friend

Journalist Rodolfo Munoz in Quito, Ecuador, contributed to this report
All About FARC • Rafael Correa • Raul Reyes • Hugo Chavez • Ecuador • Colombia