(CNN) -- Venezuelan President Hugo Chavez said he is preparing to break off diplomatic relations with Colombia over the neighboring country's plan to allow U.S. troops access to its military bases.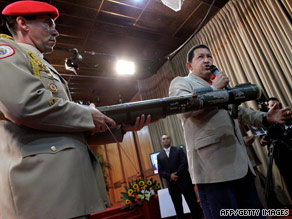 Venezuelan President Hugo Chavez, shown this month, said a Colombia-U.S. deal is a declaration of war.
"It is going to happen," Chavez said on Tuesday in a state broadcast. "We are going to prepare for this, because the Colombian bourgeoisie hates us. And now, it just isn't possible to make up. No, it is impossible.
"The agreement of the seven bases is a declaration of war against the Bolivarian Revolution," Chavez added, referring to his socialist political movement, which he named after 19th-century Venezuelan leader Simon Bolivar.
Relations between the two countries have been tense since Colombia entered into negotiations with the United States to allow its troops to operate from seven bases.
Colombia says the troops will tackle drug traffickers and leftist guerillas. And the United States says it needs the bases because Ecuador has ordered the closing of a U.S. installation there.
Chavez says the troops have an ulterior motive: They could be used to unseat him.
Tension between the two countries heightened in recent weeks, after Colombia said Venezuela supplied Colombian guerillas with shoulder-fired anti-tank weapons
Three anti-tank weapons seized from the Revolutionary Armed Forces of Colombia, or FARC, had been traced to Venezuela, Colombia said earlier this month.
FARC has been fighting the Colombian government for more than 45 years.
Chavez, at the time, said the accusation amounted to blackmail.
"What a coincidence that this information comes from Colombia one day after we started to raise our voice against the installation of Yankee bases in Colombian territory," Chavez said in a televised news conference.
"Of course this is not a coincidence," he said. "This is the government of Colombia trying to blackmail us."
E-mail to a friend

CNN's Esprit Smith contributed to this report.
All About Venezuela • Colombia • Hugo Chavez