(CNN) -- Colombia's House of Representatives overwhelmingly has approved a measure that could allow President Alvaro Uribe to run for a third term next year.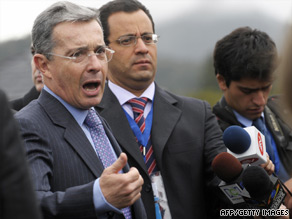 Colombian President Alvaro Uribe retains high approval ratings, and no serious challenger has emerged.
The 85-5 vote late Tuesday would let Colombians vote on a referendum on whether a president can serve three consecutive terms.
The Senate passed a similar bill August 19. The measure now goes to the Colombian constitutional court for approval.
Supporters hope to have the measure on the ballot in congressional elections scheduled for March.
The relevant part of the measure states, "Whoever has been elected president of the republic for two constitutional terms can be elected solely for one other term."
Uribe, a conservative, was elected in 2002 to a single four-year term allowed by the 1991 constitution. He won a constitutional amendment in 2005 that let him run for a second term in May 2006.
Uribe has not indicated whether he would run again in May for a third four-year term if voters approve the referendum, but many analysts expect he would. He retains high voter approval ratings, and no strong challengers have emerged.
Colombia's measure follows similar recent moves in other Latin American countries.
Venezuelan President Hugo Chavez won a referendum in February that will allow the leftist leader to run for a third six-year term in 2012. Venezuelan voters had rejected the same measure in December 2007.
In Bolivia, leftist President Evo Morales won a constitutional referendum in January and congressional approval in April to run for re-election in December.
Ecuadorian President Rafael Correa also won passage of a new constitution last year that could allow him to rule until 2017. Correa won election in 2006 and will be allowed to run again in a special election this year under the new constitution. A referendum approved this year would allow him to run for another four-year term in 2013.
Other leftist leaders in the region also have eyed constitutional amendments that would allow them to run for office again.
Honduran President Jose Manuel Zelaya was ousted in June on the same day that citizens were scheduled to vote on a measure that would have allowed a referendum on this year's November presidential ballot. The referendum would have let voters decide whether to hold a constitutional assembly to do away with presidential term limits.
The nation's congress and supreme court ruled the June vote illegal, but Zelaya vowed to hold it anyway. Coup leaders said they overthrew Zelaya because he was maneuvering to stay in power illegally. Zelaya's term, however, would have ended in January before a constitutional assembly could have met.
Nicaraguan President Daniel Ortega has indicated he, too, would like a constitutional referendum to seek another term.
In a separate matter in Colombia, Uribe said on his Web page he is recovering from his bout with H1N1 flu and expects to return to normal duties Thursday. Uribe became ill after attending a summit in Argentina on Friday.
He is the second Latin American leader to contract swine flu. Costa Rican President Oscar Arias also reported being infected last month but apparently has recovered.
E-mail to a friend

All About Colombia • Alvaro Uribe • Latin America