BOGOTA, Colombia (CNN) -- Opponents of Venezuelan President Hugo Chavez on Friday will hold marches around the country and in cities around the world in protest against his hard-line tactics.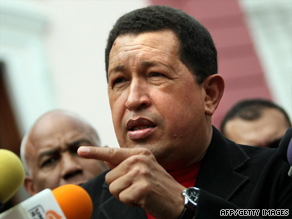 Critics say Venezuelan President Hugo Chavez is trying to suppress dissent.
The demonstrations, which comes as the leader has become his most outspoken against critics, are reminiscent of mass marches against the Revolutionary Armed Forces of Colombia, or FARC, in February 2008. Hundreds of thousands of people took to the streets in cities around the world against the guerrilla group.
Like the marches against the FARC, the anti-Chavez marches has spread through social networking Web site like Facebook.
Chavez, who came to power in 1998, has become a polarizing figure at home and abroad for his unapologetic policies aimed at creating a socialist state.
His use of Venezuela's oil wealth to fund social programs has won him the admiration and support of the poor and working classes who make up a majority of the country's population.
But to critics, the policies are not sustainable. To them, Chavez is an overbearing populist whose hard-line stances against political opponents and private media has created an atmosphere were dissent is not tolerated. There have been some instances where Chavez supporters have attacked protesters and journalists, creating uncertainty about freedom of expression in the country.
Indeed, the idea for Friday's marches didn't come from Venezuela.
The idea came from a group of youths in Colombia who say they are tired of the strong adjectives that Chavez has lobbed against Colombian President Alvaro Uribe.
"This is an issue of interference that has affected Colombians in many ways," march organizer Felipe Rojas told CNN en Español. "For this reason we decided to unite and demonstrate our "no" to Chavez, leaving no doubt that...we are against his 'Chavismo.'"
Tension between the two countries heightened in recent weeks after Colombia accused Venezuela of supplying Colombian guerrillas with shoulder-fired anti-tank weapons.
Chavez has said he was preparing to break off diplomatic relations with Colombia over the neighboring country's plan to allow U.S. troops access to its military bases.
"The agreement of the seven bases is a declaration of war against the Bolivarian Revolution," Chavez said last month, referring to his socialist political movement, which he named after 19th-century Venezuelan leader Simon Bolivar.
Organization for Friday's marches started on a Facebook group and then grew into its own Web site, Alejandro Gutierrez, another organizer, told CNN en Español.
According to the Web site, more than a dozen marches are slated in both Venezuela and Colombia, and in places like Mexico City, Mexico; Buenos Aires, Argentina; Rome, Italy, and Paris, France. In the United States, marches are scheduled in Chicago, Illinois; Austin, Texas; and Los Angeles, California, among others.
There are some who are skeptical of the success of the protest, organizers admit, but many think that the turn-out will be similar to the demonstration against the guerrillas.
As of Thursday night, the group's Facebook page had more than 124,000 fans. But matching the feat of last year's FARC protests could be difficult. The anti-FARC group page had almost four times as many followers.
E-mail to a friend

Journalist Fernando Ramos contributed to this report for CNN.
All About Venezuela • Hugo Chavez