BOGOTA, Colombia (CNN) -- Critics of Hugo Chavez marched in cities across the globe Friday, calling the Venezuelan president a dictator and violator of human rights.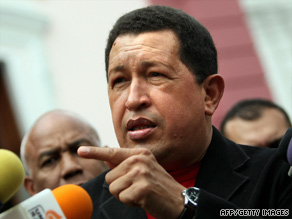 Critics say Venezuelan President Hugo Chavez is trying to suppress dissent.
The largest crowds were in Venezuela, Colombia and Honduras, according to media reports. Smaller crowds came out in other Latin American nations as well as in Europe and the United States.
Organizers for the marches, which fomented on social networking Web sites Facebook and Twitter, said turnout was lower than expected.
"We are not interested in quantity but quality," Marcela Garzon told the El Heraldo newspaper in Honduras.
The state-run Venezuelan news agency ABN said the demonstrations were organized by the far-right and described them as failures.
Chavez, who arrived in Iran for talks early Saturday, dismissed the protests, saying that those who march against him were marching against the people, according to CNN affiliate Caracol TV in Colombia.
Chavez, who came to power in 1998, has become a polarizing figure at home and abroad for his unapologetic policies aimed at creating a socialist state.
His use of Venezuela's oil wealth to fund social programs has won him the admiration and support of the poor and working classes who make up a majority of the country's population.
But to critics, the policies are not sustainable.
To them, Chavez is an overbearing populist whose hard-line stances against political opponents and private media have created an atmosphere where dissent is not tolerated.
In the Honduran capital Tegucigalpa, the march was led by Roberto Micheletti, who became president when Manuel Zelaya, a key Chavez ally, was ousted in a June coup, El Heraldo reported.
In Colombia, where the idea for the demonstrations originated, marchers in Bogota blew whistles and held up signs saying "Get out of Colombia."
Colombians accuse Chavez of supporting the Revolutionary Armed Forces of Colombia, or FARC, which has been fighting the government for more than 45 years.
"This is an issue of interference that has affected Colombians in many ways," march organizer Felipe Rojas told CNN en Español. "For this reason we decided to unite and demonstrate our "no" to Chavez."
E-mail to a friend

All About Venezuela • Hugo Chavez