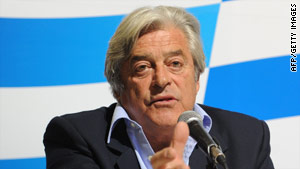 Luis Alberto Lacalle, who served as president from 1990-1995, predicted victory in the runoff.
STORY HIGHLIGHTS
Neither Mujica or Lacalle expected to capture more than 50 percent of vote
Third-place candidate Pedro Bordaberry conceded defeat; says he would vote for Lacalle
Montevideo, Uruguay (CNN) -- A former guerrilla fighter jailed for 14 years and an ex-president were headed for a runoff for the presidency of Uruguay, after neither was expected to capture more than 50 percent of the vote in Sunday's election.
Jose Mujica, a former Marxist Tupamaro guerrilla who was the top vote-getter Sunday, will be challenged by Luis Alberto Lacalle, who served as president from 1990-1995. The runoff will be held November 29.
Both candidates predicted victory at separate rallies Sunday night.
"We have ahead of us 30 days that are a fight but are not filled with hate for anyone," Mujica said at a boisterous gathering in the capital, Montevideo.
With 60 percent of the vote counted, Mujica was leading with 47.4 percent of the vote to 29.2 percent for Lacalle, news reports said. Another two candidates trailed with 17.8 percent and 2.5 percent of the vote. Only the top two vote-getters advanced to the runoff.
Third-place candidate Pedro Bordaberry conceded defeat, saying he called Mujica and Lacalle to congratulate them. Bordaberry told his supporters he would vote for Lacalle.
Speaking at his National Party headquarters, Lacalle thanked Bordaberry for his support.
"We believe we are a better option for security, for certainty, for peace, for dialog," Lacalle said.
Mujica had led in two polls last week, but both showed him falling short of the 50-percent-plus-one vote he needed to win outright.
Known to his supporters as El Pepe, Mujica belongs to the same Broad Front Party as popular current President Tabare Vazquez Rosas. Both men are considered leftists.
Lacalle is considered more conservative.
Some analysts say neither Mujica nor Lacalle is likely to take Uruguay down a different path.
"You'd scarcely notice a difference in terms of which one of them is elected," said Larry Birns, director of the Council on Hemispheric Affairs, a liberal Washington-based think tank.
We have ahead of us 30 days that are a fight but are not filled with hate for anyone
--Jose Mujica
"No one expects any dramatic change in Uruguay no matter who wins," said Peter Hakim, president of the Inter-American Dialogue, a Washington-based independent policy center. "Uruguayan politics is pretty stable."
With little difference between the two candidates on policy, voters may look for other factors.
"I believe that this election is very interesting because for the first time in the history of Uruguay in addition to political postures and programs, which always affect the outcome to a degree, the election will be affected greatly by the personal attractions and weaknesses of each candidate, which the public can clearly discern," said Uruguayan sociologist Cesar Aguiar.
Mujica, 74, was imprisoned for 14 years and released in 1985, when democracy was restored to Uruguay after a 17-year dictatorship. He served as minister of livestock and agriculture from 2005-2008, and is now a senator.
"He is the man who talks and dresses austerely," said analyst Gabriel Pereyra. "He is the man who communicates and talks the language of the people."
Analyst Rosario Queirolo describes Mujica as "a person who somehow lives what he preaches and is an antipolitician in another way. He doesn't very well fit the image of a president we have in Uruguay."
Mujica has played down his connection with the violent Tupamaros, who were defeated in 1973. Not that it seems to matter now, Birns said.
"That's a long time ago and really plays no role in his profile," he said.
Lacalle, 68, was president from 1990-1995. A lawyer and former senator, he lives in Montevideo's best neighborhood, Carrasco. He said during a previous corruption investigation he is worth $2 million, which "isn't seen well in Uruguay," said Pereyra.
The ex-president is a traditional politician from a long-time political family, said analyst Alfonso Lessa.
"Lacalle in his government put forth policies that were clearly liberal with respect to privatization," Lessa said. "Today he's not putting forth those policies. He's had a change."
Still, Hakim said, Lacalle has not become extremely conservative.
"Lacalle has a reputation of being person of center right," he said. "There's really no right wing in Uruguay."
Birns, from the Council on Hemispheric Affairs, describes both men using nearly identical language.
"Mujica is an uninspiring figure who is considered to be durable but not particularly inspired," he said. "You're not going to get any flashes from him. He's a meat-and-potatoes type of guy."
Lacalle, Birns said, "is an uninspiring figure. He doesn't have a particular personal following."
Bruce Bagley, dean of the Graduate School of International Studies at the University of Miami, also doesn't see much difference.
"They both fit into the mold of Venezuelan leaders in recent years," he said.
The next president will have to address governmental reform, education and public safety, Pereyra said.
"International comparisons with hard facts show that Uruguay is a much more secure country than the vast majority of Latin American nations," sociologist Aguiar said. "But even so the public perception is that it is increasingly becoming more insecure."
Still, analysts don't see any major issues.
"The issues that are important to Uruguay tend to be domestic issues," Birns said. "And Uruguay has played almost no regional or foreign policy role."
Located on South America's southeastern coast, Uruguay is one of the smallest Latin American countries, about the size of the state of Washington. But it is also considered one of the most economically developed. The nation has a strong political system and social welfare programs, Hakim said.
Uruguay has a population of 3.5 million, 92 percent of whom live in urban areas, according to the CIA World Factbook. The vast majority of them are of European descent.
"It's a country that keeps chugging along," Hakim said. "The political fights are very serious, but the governments stay the same. Whoever wins, Uruguay will continue to be Uruguay."
CNN's Arthur Brice in Atlanta and journalist Dario Klein in Uruguay contributed to this report.