Deal struck to end Honduran leadership standoff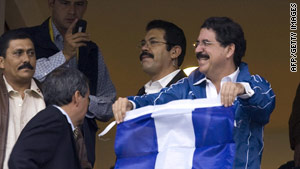 Ousted Honduran Presidnet Manuel Zelaya has been holed up in the Brazilian Embassy.
STORY HIGHLIGHTS
Deal struck in Honduras that could see return of deposed leader
U.S. Secretary of State Hillary Clinton praises deadl, calls for vote
Manuel Zelaya ousted on June 28 in a military-backed coup
(CNN) -- Negotiators for deposed Honduran President Manuel Zelaya and de facto President Roberto Micheletti have reached an agreement to form a government of national reconciliation that could reinstate Zelaya.
"My government has decided to support a proposal that allows a vote in the National Congress, with a previous opinion of the Supreme Court," to decide whether the ousted leader will be reinstated ahead of national elections next month, Micheletti said in a statement. The deal contains no guarantee that Zelaya would return to power.
"This is an agreement that benefits Honduras, the people of Honduras, and democracy in Honduras," said Victor Rico, political affairs secretary for the Organization of American States, who was involved in the negotiations.
U.S. Secretary of State Hillary Clinton praised the deal while she was on a diplomatic trip in Pakistan.
"Congratulations for reaching a historic agreement," she said from Islamabad. "I'm looking forward to elections and a full restoration of democracy."
The United States had pressed for a resolution to the political crisis before a scheduled November 29 presidential election. Many countries and international bodies had indicated that they would not recognize the results if the elections were held under the Micheletti presidency.
Zelaya has been holed up inside the Brazilian Embassy in the Honduran capital, Tegucigalpa, since sneaking back into the country on September 21. There was no immediate comment from him on the agreement.
The political crisis stems from Zelaya's plan to hold a referendum that could have changed the constitution to allow longer terms for the president.
The country's congress had outlawed the vote and the supreme court had ruled it illegal.
Honduras has been in turmoil since Zelaya was forced out of the country in a military-backed coup on June 28 and replaced hours later by legislative leader Micheletti.
Micheletti and his supporters say Zelaya's removal was a constitutional transfer of power and not a coup.
CNN Senior Latin American Affairs Editor Rafael Romo contributed to this report.
FOLLOW THIS TOPIC