Blogger says Cuban agents beat her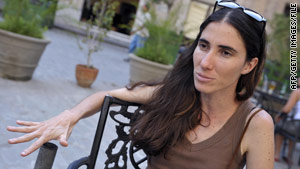 Havana resident Yoani Sanchez's blog, "Generation Y," draws about 1 million hits a month.
STORY HIGHLIGHTS
Government agents tried to get her into car, Yoani Sanchez says
"Generation Y" blogger known for posts critical of life in Cuba
She'd been warned her blog goes too far, nonprofit group says
Time magazine named Sanchez among world's most influential people in 2008
Havana, Cuba (CNN) -- A Cuban woman known for writing critical blogs about life in the communist nation said she was briefly detained by agents Friday in the capital.
Yoani Sanchez told CNN in a telephone interview that she and fellow blogger, Orlando Luis Pardo, were forced into a black Chinese-made car and assaulted by three state security agents on her way to a march against violence Friday evening.
Sanchez gained international attention for her blog "Generation Y," which gets about 1 million hits a month.
CNN was unable to independently verify the incident. The Cuban government has not commented on these accusations.
A third Cuban blogger, Claudia Cadelo, was also detained and taken away in a separate car, Sanchez said.
"Three large men in plainclothes" ordered Sanchez and Pardo to get in the car in an effort to keep them away from the march, she said.
When she refused to comply without the men showing their identification, the men forced them into the car in Havana's Vedado district.
"Help, these men want to kidnap us," Sanchez said she yelled to people standing close by as they were detained, but the men yelled back "they are counter-revolutionaries."
The men beat her and Pardo inside the car, then dropped them off near her apartment home in Havana, Sanchez said.
"I feel a lot of pain right now, all over my body," she said, adding that she sustained minor injuries to her back. Sanchez said she planned to admit herself to a hospital Saturday night.
Freedom of speech is limited in the island nation, whose media is controlled by the government.
Last year, Sanchez was named one of the world's 100 most influential people by Time magazine. The government barred her from traveling to New York in October to receive a journalism award.
CNN's David Ariosto contributed to this report.
FOLLOW THIS TOPIC