Juarez business leaders petition U.N. for help with drug traffickers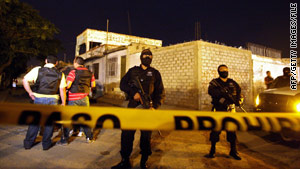 The Mexican border city of Ciudad Juarez has surpassed 2,000 homicides this year, figures show.
STORY HIGHLIGHTS
Juarez Association of Maquiladoras asks U.N. to send peacekeepers to restore calm
Bloody turf clashes among warring drug cartels have claimed 2,000 lives this year
Official says U.N. Security Council can only deploy forces for peacekeeping operations
Unclear whether the United Nations can accept a petition from citizens of a country
(CNN) -- In the Mexican border city of Ciudad Juarez, business leaders are so concerned about spiraling drug cartel-related violence that they have asked the United Nations to send in peacekeeping soldiers to restore calm.
More than 2,000 killings have been recorded this year in Juarez, with a population of approximately 1.5 million people. A bloody turf war between warring drug cartels that started last year has made the city one of the most violent in the world.
A representative from the United Nations Office on Drugs and Crime in Mexico on Thursday rebuffed the business leaders' petition, saying the international peacekeeping forces can only be authorized by the U.N. Security Council for peacekeeping operations, CNN en Español reported.
It was also unclear whether the United Nations, which is made up of member nations, could accept a petition directly from citizens of a country.
Despite the setback, the petition from the Juarez Association of Maquiladoras garnered headlines for what observers perceived as the desperation of the citizens of Juarez.
Maquiladoras are foreign-owned factories that build components of products that are usually exported elsewhere for completion. Juarez, which borders El Paso, Texas, has one of the highest concentrations of such factories.
According to statistics from local prosecutors, Juarez records about 10 murders a day. The bloodiest month this year has been September, with 476 killings reported.