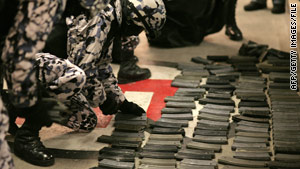 An Amnesty International report points to a "growing trend of abuses" as Mexico's military battles drug cartels.
STORY HIGHLIGHTS
NEW: Mexico leader doesn't cite report but mentions human rights
Human rights group says Mexican authorities fail to probe abuse allegations
Mexican military plays important role in war on drug cartels
Amnesty International says human rights abuses make fight against cartels harder
(CNN) -- The Mexican military has tortured and illegally killed citizens and committed other serious human rights violations as it battles the nation's drug cartels and organized crime groups, Amnesty International said in a report Tuesday.
The human rights group accuses authorities of failing to investigate allegations of abuses by the military, including abductions, extrajudicial and other unlawful killings, torture, ill treatment and arbitrary detentions.
"There is a disturbing pattern of crimes committed by the military in their security operations, abuse that is being denied and ignored by both the civilian and the military authorities in Mexico," said Kerrie Howard, deputy director of Amnesty International's Americas program.
The Mexican government issued a statement late Tuesday saying the country's interior secretary will analyze the report carefully and will make recommendations at the appropriate time.
"The federal government recognizes the work that the armed forces are doing in combatting crime and organized delinquency," the statement said. "At the same time, the government recognizes the consequences its actions could generate in its contact with the citizenry, so it has adopted preventive measures.
"In this sentiment, the Mexican government has full intent and ability to punish authorities and public servants who could commit any violation of human rights in the exercise of their functions and duties."
Mexican President Felipe Calderon did not address the report but mentioned human rights at a ceremony Tuesday.
"It is time to redouble our efforts to leave our children the Mexico that we want, and that Mexico that we want should be, of course, a Mexico that scrupulously respects the fundamental rights of people," Calderon said.
Analysts said Mexican officials are keenly aware of the situation.
"It's an issue that has raised concern on both sides of the border," said Andrew Selee, director of the Woodrow Wilson Center's Mexico Institute. "It's an issue that everybody's talking about."
The Mexican military has played an increasingly important role in the war on drug cartels that Calderon declared after assuming office in December 2006. Nearly 50,000 troops have been posted nationally to troubled areas such as Ciudad Juarez, where vicious drug gangs have outmatched and outgunned local and state police.
Nearly 14,000 drug-related killings have been reported in the nation from January 2008 to July 2009, the Mexican National Human Rights Commission said. Ciudad Juarez, on the U.S. border, has accounted for more than 3,000 deaths from January 2008 through September 2009, the Human Rights Commission said.
The abuses are a consequence of that violence and the stepped-up military presence, some analysts said.
"Once a decision was made that the military was going to take a frontal role in the combat against organized crime, it had to be expected that the number of complaints was going to increase a lot," said Ana Maria Salazar, a TV and radio commentator in Mexico City.
"The issue here," she said, "is whether there is a pattern, and is there a pattern being approved by Mexican authorities? Is it something that the Mexican government is using as a strategy to fight organized crime? I don't think that's the case."
London, England-based Amnesty International said it sees a "growing trend of abuses."
The National Human Rights Commission received nearly 2,000 complaints of abuse by the military between January 2008 and June 2009, Amnesty International said. By comparison, there were 367 complaints in 2007 and 182 in 2006.
Amnesty International said it believes many more cases go unreported.
For example, the international organization said, a human rights group in Nuevo Laredo reported receiving 70 complaints involving arbitrary detention, torture and other ill treatment by the military between January 2008 and September 2009. But only 21 individuals lodged legal complaints. The rest feared reprisals, Amnesty International said.
"The cases that we have been able to investigate are truly shocking," Howard said in a release. "But what is more shocking is that we know that this is only the tip of the iceberg."
The human rights group said the military investigates few cases, and those that are looked into "are dealt with in virtually closed military courts where victims and their relatives have no access to information or status on which they can challenge judicial or court proceedings."
A lack of independence and impartiality by the military legal system has resulted in the denial of justice to victims and impunity for perpetrators, Amnesty International and other observers said.
"In situations where there is no transparent military judicial system in place, that creates incentives for abuse," said the Mexico Institute's Selee.
Peter Hakim, president of the Inter-American Dialogue policy institute in Washington, said he sees no easy solutions.
"The question is how you deal with it," Hakim said. "I just don't know."
Human rights violations could make the fights against the cartels even more difficult, Amnesty International said.
"The abuses we have seen contribute to the deterioration of the security situation in Mexico," Howard said. "By failing to take action to prevent and punish serious human rights violations, the Mexican government could be seen to be complicit in these crimes."
TV analyst Salazar said she wonders if the military is alone in committing abuses.
"What I don't know," she said, "is whether the number of complaints against police have gone up. That would be interesting."
Amnesty International urged Mexico to "take immediate steps to ensure prompt and impartial investigations by the civilian authorities so those responsible are brought before the civilian courts and victims receive reparations."
Mexican officials must "recognize the seriousness and scale of the reports of human rights abuses committed by members of the military as well as the level of complicity of civilian authorities in covering up these abuses and to make the issue a government priority," Amnesty International said.