(CNN) -- China has released a blacklist of 19 major online portals and Web sites, including Google and Baidu, that it claims provide and spread pornographic or obscene content, state media reported.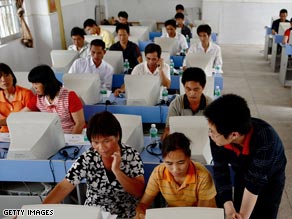 Farmers in China learn how to use the Internet in April 2008 in Guangdong province.
The move comes as several Chinese government agencies, including the Ministry of Public Security, launch a month-long campaign to clean up the Web, according to Xinhua news agency.
"The government will continue to expose, punish or even shut down those infamous Web sites that refuse to correct their wrongdoing," Cai Mingzhao, deputy director of the State Council Information Office, said Monday at a teleconference.
"Immediate action is needed to purify the Internet environment," Cai added, according to Xinhua.
Authorities accused the portals, including Sina, Sohu and Netease, and the Web sites of either providing links to pornographic sites or failing to take down pornographic pictures after being notified by the China Internet Illegal Information Reporting Center.
The center said Google in Chinese had provided "a large number of links to porn Web sites" in search results for web pages and images. The center said it notified Google, but the company did not take any effective steps, according to Xinhua.
Cui Jin, a spokeswoman for Google China, told Xinhua that Google did not spread such items intentionally.
"Google is neither the owner of those Web sites and porn nor does it spread (that) information intentionally," she said.
By the end of June 2008, China had more than 253 million Internet users, Xinhua reported.
China has come under criticism for restricting Web access to ordinary citizens as well as on local and foreign media covering last year's summer Olympics in Beijing.

Watch concerns over China's media regulation of the Olympics »
The U.S. State Department noted in a 2008 report that China had increased its efforts to "control and censor the Internet, and the government had tightened restrictions on freedom of speech and the domestic press" and bloggers.

Learn more on how China monitors the Internet »

In an interview with CNN's Fareed Zakaria in September 2008, Chinese Prime Minister Wen Jiabao said, "the freedom of Internet in China is recognized by many, even from the West."
"Nonetheless, to uphold state security, China, like many countries in the world, has also imposed some proper restrictions. That is for the safety, that is for the overall safety of the country and for the freedom of the majority of the people."
E-mail to a friend

CNN Digital Producer Miranda Leitsinger contributed to this report.
All About Internet • Google Inc.