By Iqbal Athas





COLOMBO, Sri Lanka (CNN) -- Efforts by government troops to secure control of a main highway that links mainland Sri Lanka to the northern Jaffna peninsula came a step closer Thursday when they re-captured Pallai, a palm-fringed village under rebel control.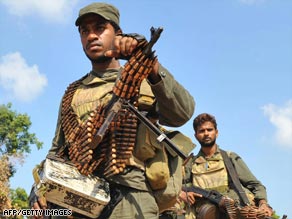 Sri Lankan army troops have had there most decisive victories against the Tamil Tigers in recent weeks.
The village is located past Elephant Pass, described as a gateway to the Jaffna peninsula, which the army re-captured on Wednesday.
Whilst a column of troops are moving northwards from this town, another column that advanced from the outer fringes of the government-controlled peninsula advanced southwards to recapture Pallai.
"When the two columns meet we would have captured the entire A-9 highway," a senior army source told CNN. He spoke on grounds of anonymity since he is not authorized to talk to media.
The A-9 highway links the hill city Kandy with Jaffna. The only stretch that remains to be recaptured is the area between Elephant Pass and Jaffna.
Don't Miss
Earlier this month, President Mahinda Rajapaksa urged the Tamil Tigers to lay down their arms and end a quarter-century of civil war. Before he made that request government troops retook the separatists' former capital, Kilinochchi.
Rajapaksa called the recapture of Kilinochchi "a victory against separatism."
"The time is not far off when people of the north can breathe freedom again," Rajapaksa said.
He invited the Tigers -- who have fought for an independent homeland for Sri Lanka's ethnic Tamil minority since 1983 -- to surrender as government troops closed in on their last remaining strongholds.
The civil war has left more than 65,000 people dead. The U.S. State Department has designated the Tamil Tigers a terrorist organization.
E-mail to a friend