KABUL, Afghanistan (CNN) -- Vice President-elect Joe Biden and Sen. Lindsey Graham arrived in Kabul on Saturday for meetings with U.S. military commanders and Afghan leaders, a U.S. military spokesman said.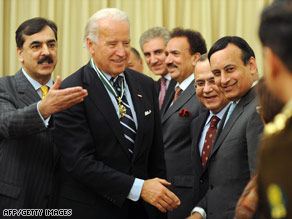 Vice President-elect Joe Biden meets Pakistani officials in Islamabad, Pakistan, on Friday.
Biden and Sen. Lindsey Graham, R-South Carolina, arrived in the Afghan capital after a one-day visit to Islamabad where they met with Pakistani President Asif Ali Zardari.
Pakistan's government is waging a bloody battle against Taliban and al Qaeda militants in its tribal regions along the border with Afghanistan.
Biden "assured the Pakistani leadership" of the United States' "continued assistance to Pakistan," according to a statement from Pakistan's Ministry of Foreign Affairs.
President-elect Barack Obama has said he wants to build up the troop presence in Afghanistan while gradually withdrawing troops from Iraq.
Five soldiers from the NATO-led force in Afghanistan have been killed by roadside bombs in the past three days.
E-mail to a friend

All About Joseph Biden • Afghanistan • Pakistan