(CNN) -- Australian commandos have killed a Taliban chief blamed for numerous attacks on coalition troops in southern Afghanistan, including one that killed an Australian soldier last week, the country's defense ministry announced.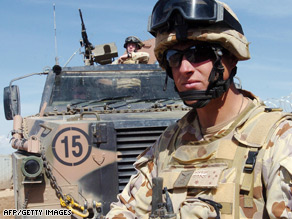 Australian soldiers of NATO-led International Security Assistance Force patrol in Uruzgan province in 2007.
The death of Mullah Abdul Rasheed "is a significant achievement for the Special Operations Task Group," Australian Lt. Gen. Mark Evans said in a statement over the weekend announcing the attack.
Australia's military called Rasheed a "senior commander" in the Taliban, the Islamic fundamentalist militia that once ruled most of Afghanistan. Among the attacks he was blamed for was a January 4 rocket attack that killed Australian Pvt. Gregory Sher, who was buried Sunday in Melbourne.
The NATO-led International Security Assistance Force said Rasheed helped bring jihadist volunteers into Afghanistan and planned roadside bombings that killed several coalition troops.
He was killed in a combination ground raid and airstrike in Afghanistan's Oruzgan province on Wednesday, the allied command in Kabul announced.
"Together with ISAF Forces and the government of the Islamic Republic of Afghanistan, we have significantly disrupted insurgent operations in Oruzgan province," Evans said.
A U.S.-led invasion toppled the Taliban after its allies in the al Qaeda terrorist network attacked New York and Washington in 2001, killing nearly 3,000 people.
But coalition forces have been battling a Taliban resurgence in southern Afghanistan in recent years, with more than 150 U.S. and allied troops killed in the past six months.
E-mail to a friend

All About Afghanistan • Afghanistan War • The Taliban • NATO • Al Qaeda