ISLAMABAD, Pakistan (CNN) -- Pakistan said Thursday it has arrested 124 suspected militants across the country -- but refrained from linking the arrests to the deadly attacks in Mumbai, India, last November.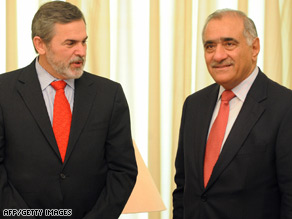 Mahmud Ali Durrani, right, speaks to U.S. envoy Richard Boucher in January.
Interior Minister Rehman Malik told reporters the round-ups have been going on for seven weeks and reiterated what has been Pakistan's consistent position regarding the attack on India's financial capital: the government is still investigating.
"We have arrested totally 124 various leaders, both mid-level, lower mid-level and top leadership," Malik said. He added that authorities have also shut down web sites and seized publications with "objectionable material."
The arrests, he said, were part of the country's ongoing operations against suspected militants within its borders.

Watch the latest on Mumbai investigation »
Reorters at the press conference repeatedly pressed Malik about any Pakistani connection to the Mumbai attacks.
The killings left more than 160 people dead and fueled renewed tensions between Pakistan and India. The two nations are longtime rivals who have fought three wars since independence and conducted tit-for-tat nuclear weapons tests in 1998.
India has said Islamic militants trained in Pakistan were behind the three-day siege of Mumbai. Pakistani officials have promised to cooperate with the investigation, but have insisted that India show it the evidence supporting the claims.
Don't Miss
Malik said the dossier that India sent to Pakistani officials backing up its allegations contain "information, not evidence" -- the same phrase Prime Minister Yousuf Raza Gilani used in a speech to parliamentarians two days earlier.
The only senior Pakistani official to acknowledge a Pakistani link to the attack was fired last week.
National Security Adviser Mahmud Ali Durrani was sacked on January 7 when he said that Mohammed Ajmal Kasab, the only surviving suspect from the attacks, had ties to Pakistan.
Durrani on Thursday said he was unhappy about the way he was fired from his job, but refused to comment on speculation that the sacking exposed a rift between the country's prime minister and president.
Government sources told CNN that Durrani had permission from Pakistani President Asif Ali Zardari to speak on the matter, but that he was fired for not consulting Prime Minister Yousuf Raza Gilani first.

"I was already authorized and I thought it was in our best national interest," Durrani told CNN's Reza Sayah in an interview that aired Thursday.
"I had an overriding permission that I could, among some three or four other people, speak on the evolving situation out of Bombay."
E-mail to a friend

CNN's Zein Basravi contributed to this report